LIFETIME AUTHENTICITY GUARANTEE WITHOUT TIME LIMIT
BRYAN, WILLIAM JENNINGS TYPED LETTER SIGNED WITH GOOD POLITICAL CONTENT REGARDING HIS 1908 CAMPAIGN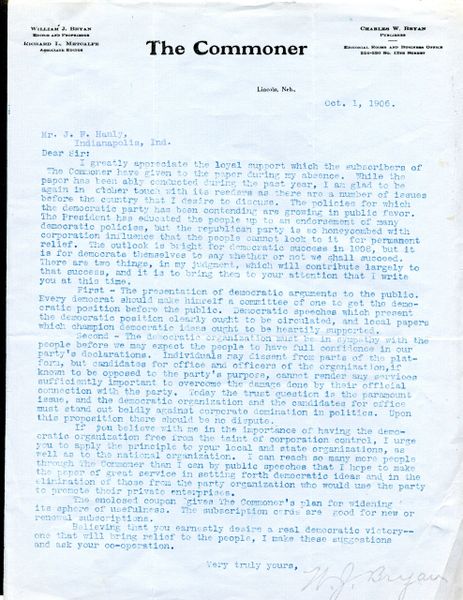 Description
WILLIAM JENNINGS BRYAN TYPED LETTER SIGNED WITH GOOD POLITICAL CONTENT REGARDING HIS 1908 CAMPAIGN, "W. J. Bryan," one page, on The Commoner light blue letterhead, 8.5 x 11, Oct. 1, 1906, to Indiana Governor, J. Frank Hanly (26th Governor of Indiana (1905-09) who later left the Republican Party and ran for U.S. President as the Prohibitionist Party candidate in 1916). In Part: Dear Sir...their are a number of issues before the country that I desire to discuss. The policies for which the democratic party has been contending are growing in public favor. The President has educated the people up to an endorsement of many democratic policies, but the republican party is so honeycombed with corporation influence that the people cannot look to it for permanent relief. The outlook is bright for democratic success in 1908, but it is for democrats themselves to say whether of not we shall succeed. There are two things, in my judgment, which will contribute largely to that success, and it is to bring them to your attention that I write you at this time...If you believe with me in the importance of having the democratic organization free from the taint of corporation control...I can reach so many more people through The Commoner than I can by public speeches that I hope to make the paper of great service in setting forth democratic ideas and in the elimination of those from the party organization who would use the party to promote their private enterprises...Believing that you earnestly desire a real democratic victory--one that will bring relief to the people, I make these suggestions and ask your co-operation. Very truly yours, W. J. Bryan." This letter to a Republican Governor makes sense if you realize that Governor Hanly was a strong advocate of prohibition and successfully advocated in Indiana against liquor sales, against gambling, and against political corruption. He was also an advocate of adjusting state agencies to operate on a non-partisan basis. All of which would make him a possible Bryan supporter. As it turned out his prohibition advocacy did lead him to leave the Republican party but not to the Democratic camp as Bryan hoped. Great content letter. In fine condition with fold lines, minor fraying at top edge, and some age toning.  

Election 1908: Republican Theodore Roosevelt did not run for a third term in 1908 but instead endorsed his friend and Secretary of War, William Howard Taft, to become his successor. The Democratic party turned to two-time nominee, William Jennings Bryan (1860-1925), who had been defeated in 1896 and 1900 against Republican William McKinley. In the 1908 campaign Bryan suffered the worst loss of his three presidential campaigns. He served as Woodrow Wilson's Secretary of State (1913-15) but resigned in protest to his concern that President Wilson would take the country into WWI. He was an opponent to the theory of evolution and was on the prosecution team in the famous 1925 Scopes "Monkey" trial in Dayton, TN. Because of his faith in the wisdom of the common people, he was called "The Great Commoner." In the 1908 election his platform was trust busting and a fight against the trusts (big corporations) and banks. And that is the topic of this good content letter written 2 years before his third run for the presidency. 
$750   #10309  (To see other Political items CLICK HERE and other Presidential items CLICK HERE )
Thank you for visiting our web site. We hope you enjoyed looking at all the wonderful autographs, historic documents, fine art photographs, and interesting memorabilia. Please let us know how we can be of service. We appreciate you letting your friends know about us.