LIFETIME AUTHENTICITY GUARANTEE WITHOUT TIME LIMIT
HOLLAND, WILLIAM JACOB SIGNED LETTER, ZOOLOGIST, PALEONTOLOGIST, BUTTERFLIES, CARNEGIE INST.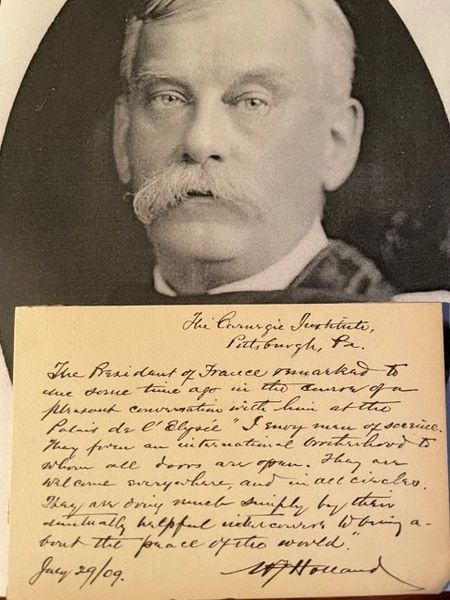 Description
"I ENVY MEN OF SCIENCE. THEY FORM AN INTERNATIONAL BROTHERHOOD TO WHOM ALL DOORS ARE OPEN."
WILLIAM JACOB HOLLAND (1848-1932) HANDWRITTEN LETTER SIGNED, "W. J. Holland", on a card 4.5 x 3, July 29, 1909, The Carnegie Institute, Pittsburgh, PA, by the zoologist, paleontologist, Presbyterian minister, Chancellor of the University of Pittsburgh, and Director of the Carnegie Museum of Pittsburgh. His main interest was in lepidoptery (study of moths & butterflies) and he popularized the subject in his books: The Butterfly Book (1898) and The Moth Book (1903). Holland's handwritten letter, in full: "The President of France remarked to me some time ago in the course of a pleasant conversation with him at the Palais de E'Elysee "I envy men of science, they form an international brotherhood to whom all doors are open. They are welcome everywhere, and in all circles. They are doing much simply by their dramatically helpful intercourse which will bring about the peace of the world." In fine condition, with minor age toning and a tiny nick lower right corner.                                    
$400   #12538