LIFETIME AUTHENTICITY GUARANTEE WITHOUT TIME LIMIT
Harrison, William Henry and the Battle of Tippecanoe against Shawnee Indian the Prophet Reported in Original Rare and Early Newspaper and also Washington Monument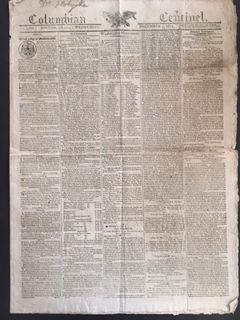 Description
William Henry Harrison and the Battle of Tippecanoe against Shawnee Indian the Prophet
Columbian Centinel, 4pp, 14.5 x 20.5, Boston, December 4, 1811, general age toning/foxing, one small hole in the fold, one small tear upper right margin, otherwise in fine condition
$495   #10333
+front page story about General William Henry Harrison's Battle of Tippecanoe which was fought near present-day Lafayette, Indiana against the famous Shawnee Indian the Prophet, brother of Tecumseh. Harrison was the Governor of the Indiana Territory. On the second page follows a long and detailed report on the "Battle with the Indians"..."details of a very bloody battle fought on the 7 November by the United States Army, commanded by General Harrison...and a body of Indians...commanded by 'The Prophet'...the gallantry and discipline of the 4th U.S. Regiment...reports of the killed and wounded...the object of the campaign...the destruction of the Prophet's town...at 4 in the morning we were assailed on all sides by numerous savages, with horrid yells...our loss has been great...we have burned the town this morning...the total wounded and killed on our side is 123...."
+ Prelude to the War of 1812 which would statr just 3 months later: several reports on problems with the French boarding American ships and French privateers
+ A bill for apportioning the representation of the people of the United States
+ George III: "The physicians who attended the British King had officially declared, that he could never so recover as again to exercise the functions of royalty." In 1810 a serious illness had caused him to lose his sight, hearing, and sanity. His son, George, Prince of Wales, was appointe regent and ruled in his place until the king died.
+ front page, two column article about the efforts of "erecting in the town of Boston, a MONUMENT to the Memory of GEORGE WASHINGTON...influential citizens to be nominated to serve as Trustees [a long list of 38 distinguished American patriots, politicians and statesmen, including: Timothy Bigelow, Thomas Dawes, Vice President Elbridge Gerry, Theophilus Parsons, Timothy Pickering, Josiah Quincy, Gov. Caleb Strong, U.S. Supreme Court Justice Joseph Story]...." What follows is a full column "The Address to the People of the Commonwealth of Massachusetts...the name of GEORGE WASHINGTON, is associated with the most interesting and eventful periods of our national history--Leader in our struggle for Independence...Chief among the founders of our Federal Constitution, and called first to the chair of state...His memory is interwoven with the very texture of our liberties...is yet destitute to a monument to his memory...to erect in some suitable place, in the town of Boston a colossal equestrian statue to the memory of GEORGE WASHINGTON...worthy of his services and the people's gratitude...."
+ James Monroe elected Secretary of State
$495  #10333  (To see more Rare and Early Newspapers CLICK HERE )
Thank you for visiting our web site. We hope you enjoyed looking at all the wonderful autographs, historic documents, fine art photographs, and interesting memorabilia. Please let us know how we can be of service. We appreciate you letting your friends know about us.