LIFETIME AUTHENTICITY GUARANTEE WITHOUT TIME LIMIT
WILLARD F. LIBBY SIGNATURE OF CHEMIST WHO WON NOBEL PRIZE FOR HIS ROLE IN THE DEVELOPMENT OF CARBON-14 DATING WHICH REVOLUTIONIZED ARCHAEOLOGY AND PALAEONTOLOGY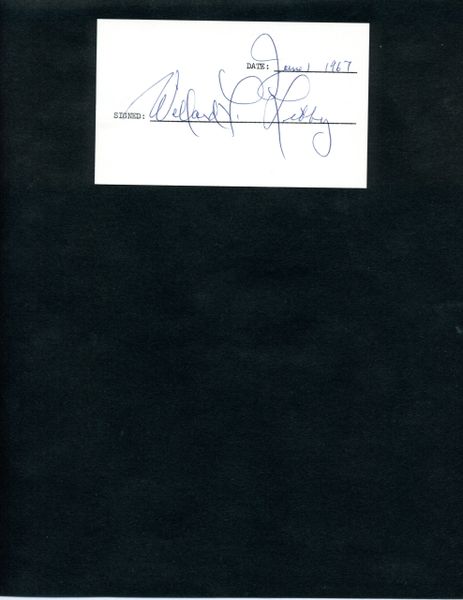 Description
WILLARD F. LIBBY (1908-80) SIGNATURE OF CHEMIST WHO WON 1960 NOBEL PRIZE FOR HIS ROLE IN THE DEVELOPMENT OF CARBON-14 DATING, "Willard F. Libby, June 1, 1967," on white 5 x 3 card. In very fine condition. He was a physical chemist noted for his role in the 1949 development of a technique for determining the age of an object by dating organic compounds, a process which revolutionized archaeology and palaeontology. Measuring the amount of radiocarbon (14C) in a sample from a dead plant or animal such as a piece of wood or a fragment of bone provides information that can be used to calculate when the animal or plant died. The older a sample is the less radiocarbon is to be detected. You can use a measurement of radiocarbon in a sample to estimate the sample's calendar age. The development of radiocarbon dating has had a profound impact on archaeology. In addition to permitting more accurate dating within archaeological sites than previous methods, it allows comparison of dates of events across great distances. Today the method of choice in measuring radiocarbon in a sample is done with using accelerator mass spectrometry. Libby also discovered that tritium similarly could be used for dating water, and therefore wine.

$350 #10318 (To see other Science and Medicine items CLICK HERE)
Thank you for visiting our web site. We hope you enjoyed looking at all the wonderful autographs, historic documents, fine art photographs, and interesting memorabilia. Please let us know how we can be of service. We appreciate you letting your friends know about us.