LIFETIME AUTHENTICITY GUARANTEE WITHOUT TIME LIMIT
WEEGEE (ARTHUR FELLIG) VINTAGE PHOTO OF JAZZ TRUMPETER BUNK JOHNSON C. 1940'S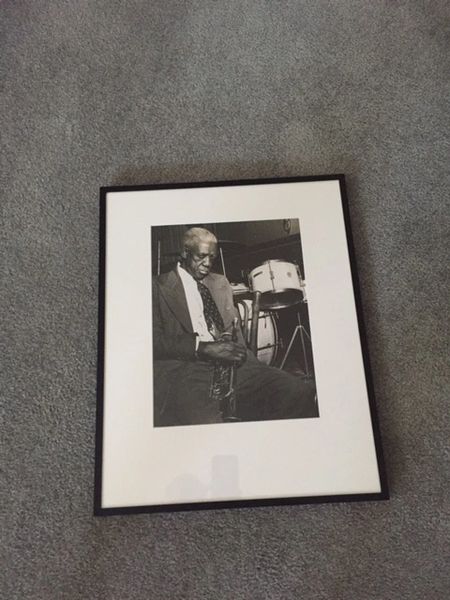 Description
WEEGEE (ARTHUR FELLIG) VINTAGE PHOTO, "BUNK JOHNSON AFTER A BUSY SATURDAY NIGHT," SILVER GELATIN (c 1940's), 10 x 13, PUBLISHED IN "WEEGEE'S PEOPLE." WEEGEE/PHOTO REPRESENTATIVE STAMP AND PENCIL NOTATIONS ON REVERSE. MATTED AND FRAMED TO AN OVERALL SIZE OF 16 X 20. IN FINE CONDITION WITH ONE CREASE TO THE TOP RIGHT.
Weegee (1899-1968) was the pseudonym of Arthur Fellig a famous New York City photographer and photojournalist in the 1940's and 1950's known for his stark black and white street photography: images of murder, mayhem, dead gangsters, Harlem blacks, famous personalities, and other dramatic events. His career spanned four decades on both coasts as well as Europe. His images of dead gangsters and his own flamboyant personality established his reputation as New York's "crime photographer," a reputation and persona he nurtured. The New York Museum of Modern Art acquired some his photographs and many of his images have appeared in multiple books. In the 1950's and 1960's he experimented with photo distortions and photography through prisms (kaleidoscope) that created caricatured images.
Bunk Johnson (1879-1949) A prominent jazz trumpeter in New Orleans during 1905-1915. In 1931 he lost his trumpet and his front teeth when a fight broke out at a dance that stopped his musical career for a few years until he was rediscovered in 1939 and made his first recordings in 1942. These recordings propelled Johnson into public attention and he toured with his band to New Orleons, San Francisco, New York (where Weegee captured this photo), Boston, San Francisco, etc. He suffered from a stroke in late 1948 and died the following year.
$3500 #10080/WEE-1615