LIFETIME AUTHENTICITY GUARANTEE WITHOUT TIME LIMIT
WEEGEE (ARTHUR FELLIG) SIGNED HANDWRITTEN LTR. REQUESTING KALIMAR CAMERA AND ALL TYPES OF LENSES FOR PROJECT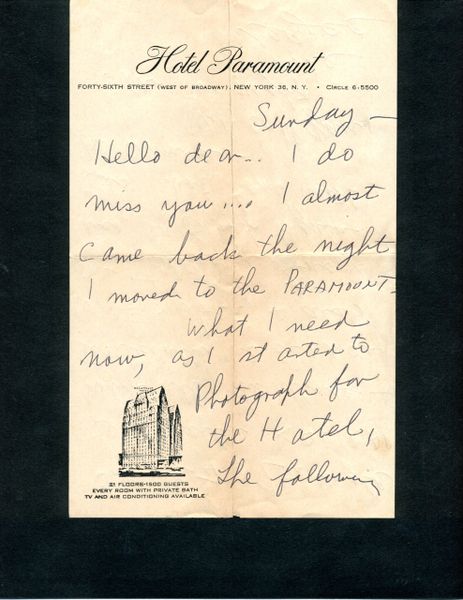 Description
WEEGEE (ARTHUR FELLIG) HANDWRITTEN LTR SIGNED, "Love Weegee", 2 pages back to back, on Hotel Paramount, New York, letterhead, 6 x 9.5,  probably to Wilma Wilcox, good content about moving to the Paramount Hotel to start photo project, and requesting his Kalimar camera and all types of lenses for the assignment "...The 2.25 x 2.25 single lens reflex KALIMAR with all the lenses...wide angle...telephoto...3 inch regular lens...." Some separation at center fold, age toning, otherwise in fine condition. 
Weegee (1899-1968) was the pseudonym of Arthur Fellig a famous New York City photographer and photojournalist in the 1940's and 1950's known for his stark black and white street photography: images of murder, mayhem, dead gangsters, Harlem blacks, famous personalities, and other dramatic events. His career spanned four decades on both coasts as well as Europe. His images of dead gangsters and his own flamboyant personality established his reputation as New York's "crime photographer," a reputation and persona he nurtured. The New York Museum of Modern Art acquired some his photographs and many of his images have appeared in multiple books.  In the 1950's and 1960's he experimented with photo distortions and photography through prisms that created caricatured images.
Wilma Wilcox was a Quaker social worker who Weegee lived with for over a decade before his death in 1968. She inherited his entire archive of original prints and subsequently donated them to the International Center for Photography on her death in 1993.
$600  #10746