LIFETIME AUTHENTICITY GUARANTEE WITHOUT TIME LIMIT
WEEGEE (ARTHUR FELLIG) SIGNED 3 TIMES POSTCARD PHOTO OF HIM FILMING IN GERMANY AND HANDWRITTEN NOTE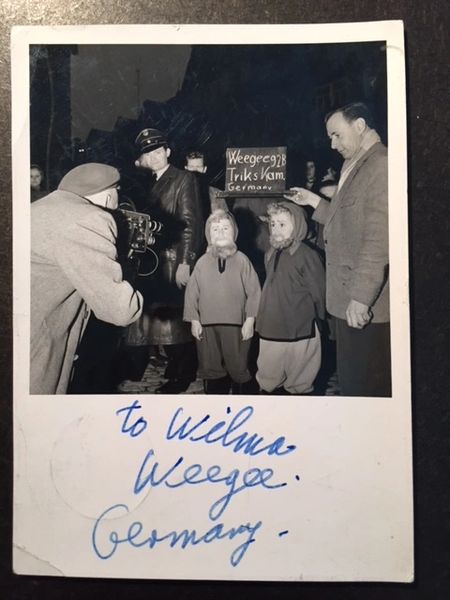 Description
WEEGEE (ARTHUR FELLIG) SIGNS THREE TIMES ON PHOTO AND ON HANDWRITTEN NOTE ON THE ADDRESS SIDE
WEEGEE POSTCARD PHOTO SIGNED, "TO Wilma/Weegee/Germany," 4.25 X 6, showing Weegee on a movie set filming some small children (dressed as elves?), postmarked on message side, 3-11-58. Weegee has handwritten the address, "Weegee/250 W. 47th/New York 36, New York/U.S.A. c/o WILCOX", and has handwritten and again signed a note to the lady he lived with, Wilma Wilcox. In full: "Dear Wilma…Please adress (sic) all mail to ARTHUR FELLIG C/O AMERICAN EXPRESS, PARIS, FRANCE."  Signing his real name "ARTHUR FELLIG" is extremely rare. A few light creases on the left margin, minor age toning, some small foxing spots on the note side, otherwise in fine condition.  
Wilma Wilcox was a Quaker social worker who Weegee lived with for over a decade before his death in 1968. She inherited his entire archive of original prints and subsequently donated them to the International Center for Photography on her death in 1993.
Weegee was a famous New York City photojournalist in the 1940's and 1950's known for his images of murder, mayhem and other dramatic events. His career spanned four decades on both coasts as well as Europe. His images of dead gangsters and his own flamboyant personality established his reputation as New York's "crime photographer," a reputation and persona he nurtured. 
$995     #10096