LIFETIME AUTHENTICITY GUARANTEE WITHOUT TIME LIMIT
TITANIC: MILLVINA DEAN SIGNED PHOTO OF TITANIC BY LAST LIVING SURVIVOR LIMITED EDITION #261 OF500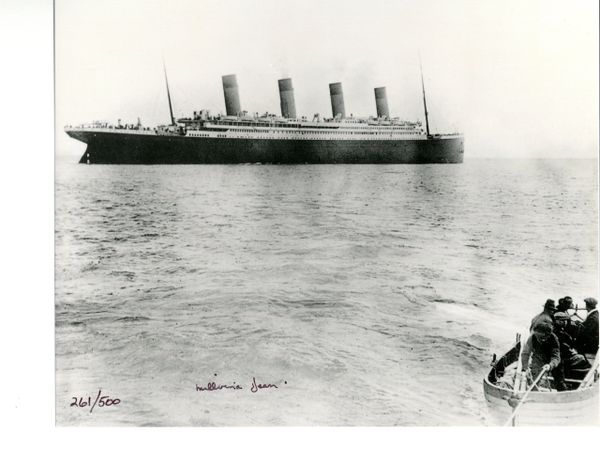 Description
TITANIC: MILLVINA DEAN SIGNED PHOTO OF TITANIC BY LAST LIVING SURVIVOR, "Millvina Dean 261/500", 10 x 8, b/w showing the Titanic on it's maiden voyage. This photo was signed in 1998 at her home in England. She died in 2009. Comes with a 6 x 4 photo of her when she signed. Both items in fine conditon.

Eliza Gladys "Millvina" Dean (2 February 1912 – 31 May 2009) was a British civil servant and cartographer. She was the last remaining survivor of the sinking of the RMS Titanic on 15 April 1912.[1] At 2 months old, she was also the youngest passenger aboard.
Dean's parents decided to leave the United Kingdom and emigrate to Wichita, Kansas, where her father had relatives, and his cousin owned a tobacco shop that he was going to co-own. They were not supposed to be aboard the Titanic, but due to a coal strike, they were transferred onto it and boarded it as third-class passengers at Southampton, England. Dean was barely two months old when she boarded the ship. Her father felt its collision with the iceberg on the night of 14 April 1912, and after investigating, returned to his cabin, telling his wife to dress the children and go up on deck. Dean, her mother, and her brother were placed in a lifeboat and were among the first third-class passengers to escape. They were rescued by the crew of R.M.S. Carpathia. Her father, however, did not survive, and his body, if recovered, was never identified. On October 2007, Dean became the last Titanic survivor. 97-year-old Dean died of pneumonia on the morning of 31 May 2009, 97 years and seven weeks after the Titanic sailed.
$125 #10588