LIFETIME AUTHENTICITY GUARANTEE WITHOUT TIME LIMIT
CHRISTLIEB, THEODOR HANDWRITTEN BIBLICAL QUOTE SIGNED PS. 119, 111., PRACTICAL THEOLOGY BONN UNIV.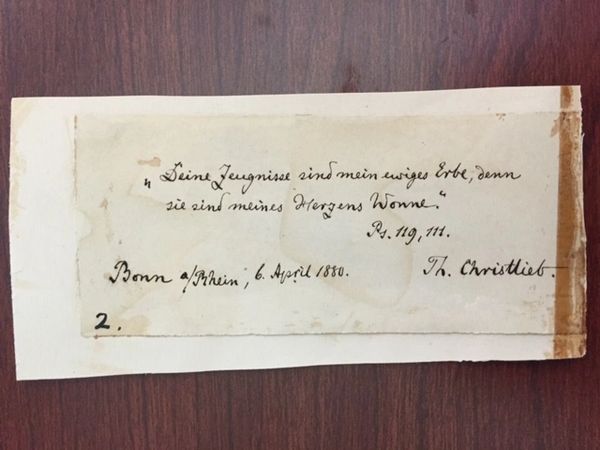 Description
THEODOR CHRISTLIEB HANDWRITTEN BIBLICAL QUOTE SIGNED, "Th. Christlieb, Bonn a/Bhein, 6 April 1880", 4.25 x 2,  PS. 119, 111., quote written in German: "Your testimonies are my heritage forever, for they are the joy of my heart, Ps. 119, 111.", by Protestant theologian and professor of practical theology at Bonn University who was one of the fathers of the Community Movement and an active member of the Evangelical Church. He was well known for his talk and publications about the best ways to combat modern disbelief. In fine condition, with mounting tape on right edge, the number "2." in another hand at lower left. Also on the reverse is another handwritten Bible quote signed by Rev. Isaac M. See of the Wickliff Presbyterian Church, Newark, NJ, who was admonished, at the 19th General Assembly of the Presbyterian Church, for allowing women to teach and preach in his church.
$95   #11357