LIFETIME AUTHENTICITY GUARANTEE WITHOUT TIME LIMIT
STARR WOOD SIGNED ORIGINAL PENCIL, PEN, BRUSH, BLACK INK, MONOCHROME WASH CARTOON OF SEXY WOMAN READING A BOOK,10 X 12.5, BY 19TH-EARLY 20TH CENTURY BRITISH PUNCH MAGAZINE CARTOONIST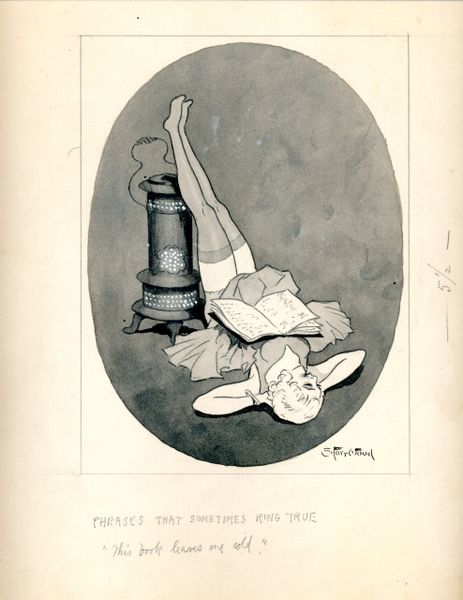 Description
STARR WOOD (1870-1944) SIGNED ORIGINAL PENCIL, PEN, BRUSH, BLACK INK, MONOCHROME WASH GAG CARTOON, "Starr Wood", 10 x 12.5, on heavy card stock, by 19th-early 20th century British Punch cartoonist. This cartoon, "PHRASES THAT SOMETIMES RING TRUE," shows a sexy lady reading. Wood's handwritten caption (the publisher would later set it in type) reads: "This book leaves me cold." There are a few publisher/printer notations in pencil, general age toning, a few minor stains, otherwise in fine condition.
 STARR WOOD turned freelance cartoonist after his first drawing was published in 1892. In addition to his Punch cartoons he contributed to several other British publications, including: Chums, Fun, Judy, Chips, Parade, John Bull, Bystander, Humorist, Passing Show, Tatler and Strand from 1898-1938.
$650  #10495
THANK YOU FOR VISITING OUR WEB SITE. WE APPRECIATE YOUR INTEREST. WE HAVE THOUSANDS OF OTHER AUTOGRAPHED ITEMS IN STOCK THAT ARE NOT ON THIS WEB SITE. PLEASE CALL OR EMAIL US IF WE CAN BE OF SERVICE.