LIFETIME AUTHENTICITY GUARANTEE WITHOUT TIME LIMIT
STARR WOOD SIGNED ORIGINAL PENCIL, PEN, BLACK INK CARTOON OF TWO MEN DISCUSSING THEIR WIVES BATHING SUITS,10 X 12.5, BY 19TH-EARLY 20TH CENTURY BRITISH PUNCH MAGAZINE CARTOONIST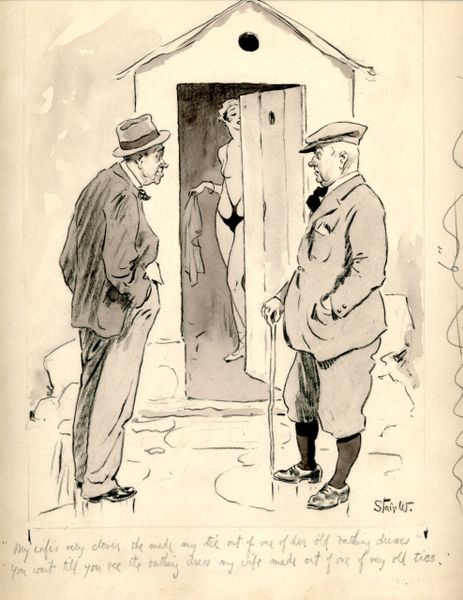 Description
STARR WOOD (1870-1944) SIGNED ORIGINAL PENCIL, PEN, BRUSH, BLACK INK, MONOCHROME WASH GAG CARTOON, "Starr W.", appeared in Starr Wood's Annual, 10 x 12.5, on heavy card stock, by 19th-early 20th century British Punch cartoonist. This cartoon shows two men talking about their wives bathing suits. Wood's handwritten caption (the publisher would later set it in type) reads: "My wife's very clever. She made my tie out of one of her old bathing dresses." "You wait till you see the bathing dress my wife made out of one of my old ties." There are a few publisher/printer notations in pencil, general age toning, otherwise in fine condition.
STARR WOOD, caricaturist, joke cartoonist, and journalist, was a self-taught artist who turned freelance cartoonist after his first drawing was published in the 1890's. In addition to his Punch cartoons he contributed to several other British publications, including: Chums, Fun, Judy, Sketch, Pick-Me-Up, Chips, Parade, John Bull, Bystander, Humorist, Passing Show, Idler, Tatler and Strand from 1898-1938. He founded his own magazine, The Windmill, in 1890. From 1910 until around 1935 he also ran The Snark or Starr Wood's Annual, a twice-yearly illustrated magazine of cartoons and amusing stories, charmingly illustrated by him with sometimes naughty, cheesecake images and with covers of stylish women drawn by him. Wood's humor is seldom above that of the seaside postcard but he can be a very funny draughtsman. He was color blind and worked chiefly in line using a thin and moderately economical style which had zest and flow. His subjects were generally in the field of marital contretemps, domestic quirks, and various kinds of incongruity.
$425 #10514
THANK YOU FOR VISITING OUR WEB SITE. WE APPRECIATE YOUR INTEREST. WE HAVE THOUSANDS OF OTHER AUTOGRAPHED ITEMS IN STOCK THAT ARE NOT ON THIS WEB SITE. PLEASE CALL OR EMAIL US IF WE CAN BE OF SERVICE.