LIFETIME AUTHENTICITY GUARANTEE WITHOUT TIME LIMIT
FOSTER, ALAN DEAN TYPED LETTER SIGNED ABOUT HIS SC-FI WRITING & RELIGION, INSTANT WITH LOUD VOICES (ENEMIES COLLECTION)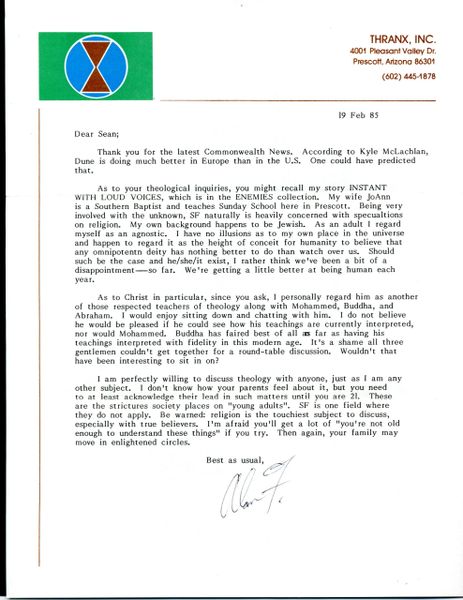 Description
INSTANT WITH LOUD VOICES (ENEMIES COLLECTION): ALAN DEAN FOSTER TYPED LETTER SIGNED, "Alan Foster," one page, 8.5 x 11, 19 Feb 85, with original THRANX, INC. mailing envelope, on his personal THRANX, INC letterhead. With good content about religion. In part: "...As to your theological inquiries, you might recall my story INSTANT WITH LOUD VOICES, which is in the ENEMIES collection...Being very involved with the unknown, SF naturally is heavily concerned with speculations on religion. My own background happens to be Jewish. As an adult I regard myself as an agnostic. I have no illusions as to my own place in the universe...As to Christ in particular...I personally regard him as another of those respected teachers of theology along with Mohammed, Buddha, and Abraham. I would enjoy sitting down and chatting with him. I do not believe he would be pleased if he could see how his teachings are currently interpreted, nor would Mohammed. Buddha has faired best of all as far as having his teachings interpreted...It's a shame all three gentlemen couldn't get together for a round-table discussion...Be warned: religion is the touchiest subject to discuss, especially with true believers...." Both items are in fine condition. 

Alan Dean Foster is an American writer of  over 100 books of fantasy and science fiction. He has done the novelization of many film scripts including ghostwriting the original Star Wars. He has the story credit for Star Trek: The Motion Picture. He also wrote 10 books based on episodes of the animated Star Trek. He also wrote the novel versions of the first three Alien films. His novel Cyber Way won the Southwest Book Award for Fiction. His short fiction has appeared in all SF magazines.
$195  #10390
THANK YOU FOR VISITING OUR WEB SITE. WE APPRECIATE YOUR INTEREST. WE HAVE THOUSANDS OF OTHER AUTOGRAPHED ITEMS IN STOCK THAT ARE NOT ON THIS WEB SITE. PLEASE CALL OR EMAIL US IF WE CAN BE OF SERVICE.