LIFETIME AUTHENTICITY GUARANTEE WITHOUT TIME LIMIT
FOSTER, ALAN DEAN TYPED LETTER SIGNED, GREAT CONTENT ABOUT HIS BOOKS AND WRITING, THE MOMENT OF THE MAGICIAN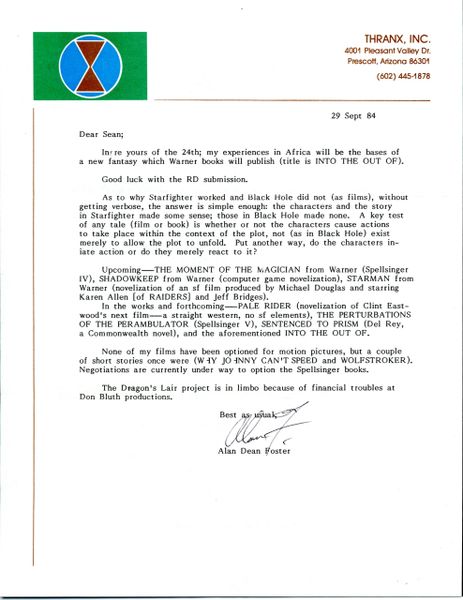 Description
THE MOMENT OF THE MAGICIAN (SPELLSINGER IV): ALAN DEAN FOSTER TYPED LETTER SIGNED, "Alan Foster," one page, 8.5 x 11, 29 Sept 84, with original mailing envelope, on his personal THRANX, Inc. letterhead. Great content about his many books and writing. In Part: "...my experiences in Africa will be the bases of a new fantasy which Warner books will publish...As to why Starfighter worked and Black Hole did not (as films)...a key test to any tale (film or book) is whether or not the characters cause actions to take place...Upcoming--THE MOMENT OF THE MAGICIAN from Warner (Spellsinger IV), SHADOWKEEP from Warner (computer game novelization), STARMAN...PALE RIDER (novelization of Clint Eastwood's next film...)...(Spellsinger V)...optioned for motion pictures...negotiations are currently under way to option the Spellsinger books. The Dragon's Lair project...." Comes with the original THRANX, INC. mailing envelope. Both items are in fine condition. 

Alan Dean Foster is an American writer of  over 100 books of fantasy and science fiction. He has done the novelization of many film scripts including ghostwriting the original Star Wars. He has the story credit for Star Trek: The Motion Picture. He also wrote 10 books based on episodes of the animated Star Trek. He also wrote the novel versions of the first three Alien films. His novel 
Cyber Way
 won the Southwest Book Award for Fiction. His short fiction has appeared in all SF magazines
$195   #10388
THANK YOU FOR VISITING OUR WEB SITE. WE APPRECIATE YOUR INTEREST. WE HAVE THOUSANDS OF OTHER AUTOGRAPHED ITEMS IN STOCK THAT ARE NOT ON THIS WEB SITE. PLEASE CALL OR EMAIL US IF WE CAN BE OF SERVICE.