LIFETIME AUTHENTICITY GUARANTEE WITHOUT TIME LIMIT
SIMON FLEXNER TYPED LETTER SIGNED AS DIRECTOR OF THE ROCKEFELLER INSTITUTE FOR MEDICAL RESEARCH TO FRANCIS BOAS FATHER OF AMERICAN ANTHROPOLOGY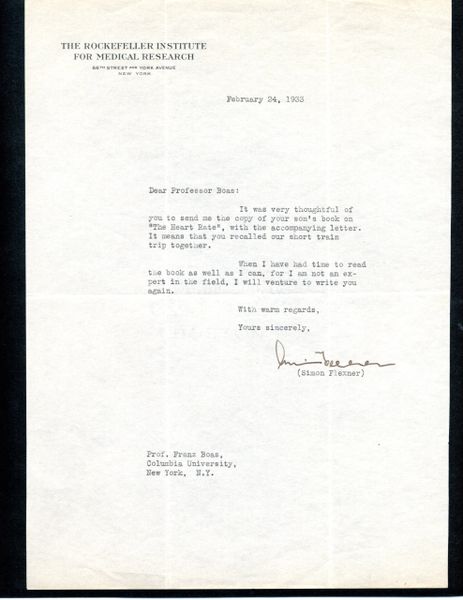 Description
SIMON FLEXNER, PATHOLOGIST, TYPED LETTER SIGNED AS DIRECTOR OF THE ROCKEFELLER INSTITUTE FOR MEDICAL RESEARCH TO FRANCIS BOAS FATHER OF AMERICAN ANTHROPOLOGY, one page, 8 x 11, on "The Rockefeller Institute For Medical Research" letterhead, February 24, 1933, to Franz Boas, father of American Anthropology, In part: "Dear Professor Boas: It was very thoughtful of you to send me a copy of your son's book on 'The Heart Rate," with the accompanying letter...When I have time to read the book...for I am not an expert in the field...Yours sincerely, Simon Flexner." Fold lines and age toning, otherwise in fine condition.

SIMON FLEXNER (1863-1946) Physician, scientist, administrator, and professor of experimental pathology at the University of Pennsylvania. He served as the first director of the Rockefeller Institute for Medical Research (1901-35) and a trustee of Rockefeller Foundation. He known for his studies into poliomyelitis and the development of serum treatment for meningitis. First to describe Flexner-Wintersteiner rosettes, a characteristic finding in retinoblastoma, a type of cancer.
$225 #10316 (To see other Science and Medicine items CLICK HERE )
Thank you for visiting our web site. We hope you enjoyed looking at all the wonderful autographs, historic documents, fine art photographs, and interesting memorabilia. Please let us know how we can be of service. We appreciate you letting your friends know about us.