LIFETIME AUTHENTICITY GUARANTEE WITHOUT TIME LIMIT
SALVATORE MARCHESI SIGNED CABINET PHOTO INSCRIBED BY ITALIAN BARITONE/TEACHER TO OPERA STAR EMMA NEVADA,1888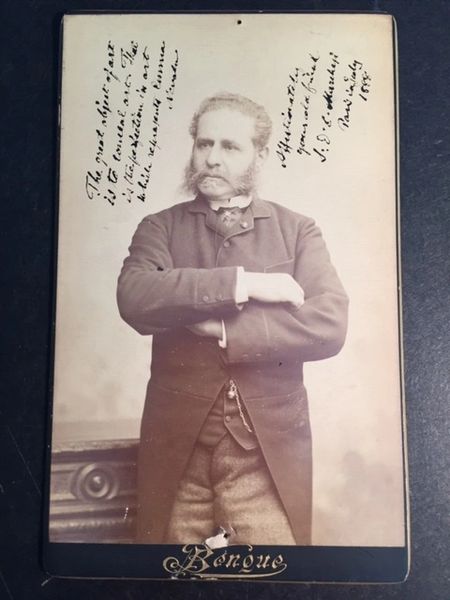 Description
SALVATORE MARCHESI SIGNED CABINET PHOTO, "The great object of art is to conceal art. That is the perfection in art which represents Emma Nevada, Affectionately your old friend, S. D. C Marchesi, Paris, 1888", 5 x 8.5, photographed by Benque & Co. Studio, Paris, inscribed by the Italian baritone/vocal teacher to opera star, and former student of he and his wife Mathilde Marchesi. Pin hole at top edge and small surface loss at bottom, otherwise in fine condition. 
Salvatore Marchesi (1822-1908) was a baritone, musician, translator, librettist and Italian singing teacher. Together with his wife, Mathilde Marchesi, he was a singing professor at the Vienna Conservatory for a decade. In 1881 they moved permanently to Paris where they founded the Ecole Marchesi, a private school from which some of the most important singers came out, including the recipient of this inscribed photo, Emma Nevada.
Emma Nevada (1859-1940) was an American operatic soprano who was considered one of the finest coloratura sopranos of the late 19th and early 20th centuries.

$325   #10810