LIFETIME AUTHENTICITY GUARANTEE WITHOUT TIME LIMIT
ROBERT MOTHERWELL HAND SIGNED OFFSET LITHOGRAPH "ELEGY TO THE SPANISH REPUBLIC XXXIV" 1953-54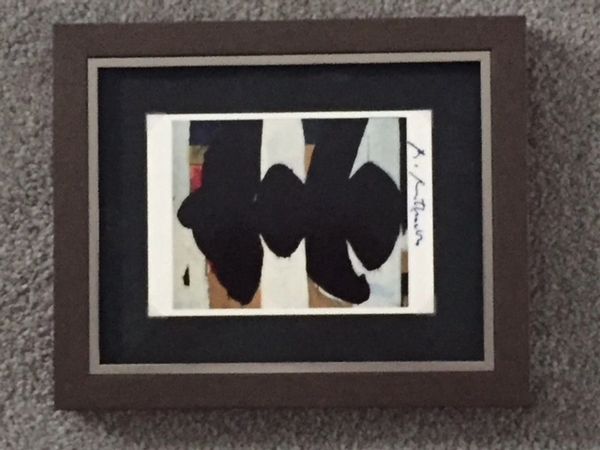 Description
ROBERT MOTHERWELL HAND SIGNED, "R. Motherwell", 4 x 6, offset lithograph of "Elegy to the Spanish Republic XXXIV", 1953-54, matted and framed in silver and bronze metal to an overall size of 8 x 10. In fine condition.

Robert Motherwell (January 24, 1915 – July 16, 1991) was an American Abstract Expressionist painter, printmaker, and editor. He was one of the youngest of the New York School (a phrase he coined), which also included Philip Guston, Willem de Kooning, Jackson Pollock, and Mark Rothko.
Motherwell's Elegy paintings, such as this one – are often more like poems being recited aloud, bold and open in statement, strong in volume. The colors in the left vertical band recall those of the flag of the Second Spanish Republic (1931–39).
His esteemed intellect not only undergirded his gorgeous, expressive paintings—frequently featuring bold black shapes against fields of color—but also made Motherwell one of the leading writers, theorists, and advocates of the New York School. He forged close friendships with the European Surrealists and other intellectuals over his interests in poetry and philosophy.
$795 #10656