LIFETIME AUTHENTICITY GUARANTEE WITHOUT TIME LIMIT
ANDERSON, ROBERT SIGNED EXTREMELY RARE CIVIL WAR AUTOGRAPH WHICH RELATES TO FIRST SHOTS AND FIRST BATTLE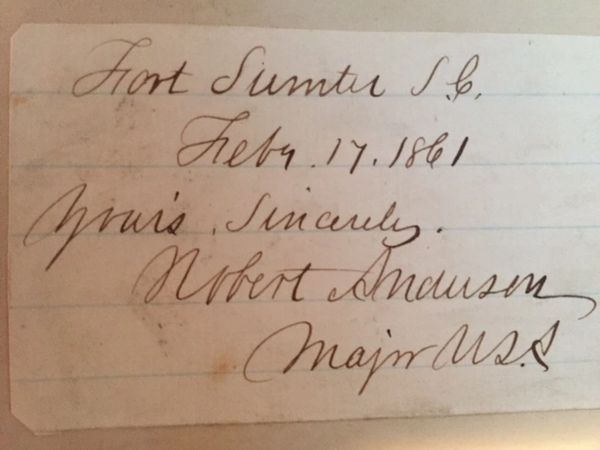 Description
MAJOR ROBERT ANDERSON SIGNED, FEBY. 17, 1861, EXTREMELY RARE, FORT SUMTER, CIVIL WAR AUTOGRAPH WHICH RELATES TO FIRST SHOTS AND FIRST BATTLE OF THE WAR

ROBERT ANDERSON SIGNED "Fort Sumter S.C., Feby. 17, 1861, Your's Sincerely, Robert Anderson Major U.S.A.," 3 x 2, signed just weeks before the first shots of the U.S. Civil were fired at Ft. Sumter and he upheld Union honor in the first battle of the American Civil War. An extremely rare signed Civil War autographed item which relates to the first shots and the first battle of the War. A little light soiling, otherwise in fine condition.
Major Robert Anderson remained loyal to the Union when South Carolina seceded in December 1860. He was the commander of United States Army forces in Charleston, SC, the last remaining important Union post in the Confederacy. He moved his small garrison from Fort Moultrie, which was indefensible, to the more modern, more defensible, Fort Sumter in the middle of Charleston Harbor. In February 1861 the Confederate States of America was formed and took charge. Jefferson Davis, the Confederate President, ordered the fort be captured. The artillery attack was commanded by Brig. Gen. P. G. T. Beauregard, who had been Anderson's student at West Point. The attack began April 12, 1861, and continued until Anderson, badly outnumbered and outgunned, surrendered the fort on April 14. The battle began the American Civil War.
$1500    #10225ZIRRR   (Many other Civil war items in stock)
Thank you for visiting our web site. We hope you enjoyed looking at all the wonderful autographs, historic documents, fine art photographs, and interesting memorabilia. Please let us know how we can be of service. We appreciate you letting your friends know about us.