LIFETIME AUTHENTICITY GUARANTEE WITHOUT TIME LIMIT
RICOU BROWNING SIGNED PHOTO AS THE CREATURE FROM THE CREATURE FROM THE BLACK LAGOON 1954 MOVIE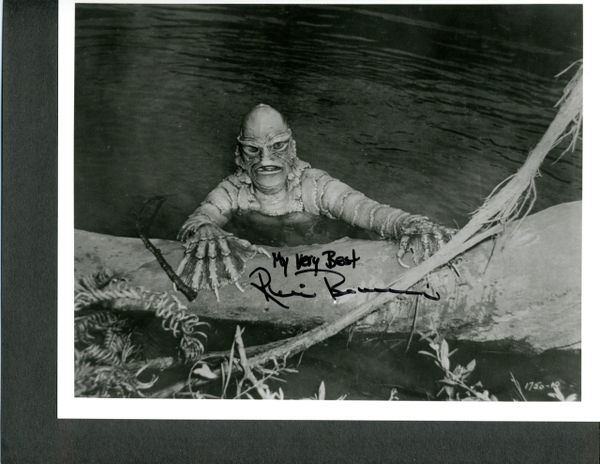 Description
 RICOU BROWNING SIGNED PHOTO AS THE GILL-MAN CREATURE FROM THE 1954 MONSTER HORROR FILM CREATURE FROM THE BLACK LAGOON, 10 X 8, B/W, showing the Gill-man close-up in a scary pose climbing out of the water. Browning was an underwater cinematographer and stuntman. He played the creature in more than one movie. In fine condition.
$120    #10301   (To see other Ricou Browning items and other Classic Entertainmant items CLICK HERE )
Thank you for visiting our web site. We hope you enjoyed looking at all the wonderful autographs, historic documents, fine art photographs, and interesting memorabilia. Please let us know how we can be of service. We appreciate you letting your friends know about us.