LIFETIME AUTHENTICITY GUARANTEE WITHOUT TIME LIMIT
RICHARD NIXON DOCUMENT SIGNED PERMITTING CHECKERS SPEECH PUBLICATION IN PUBLIC SPEAKING TEXTBOOK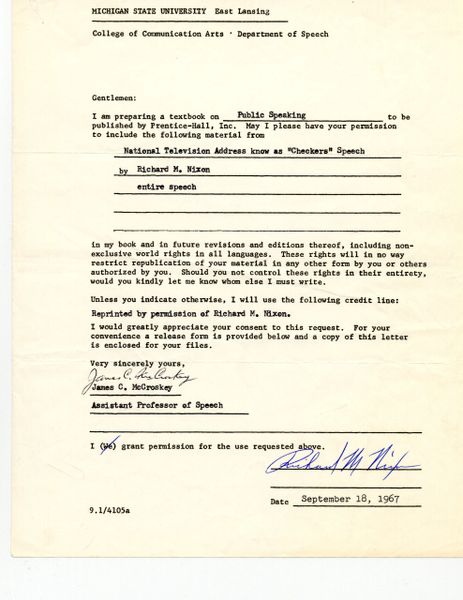 Description
PRESIDENT RICHARD M. NIXON DOCUMENT SIGNED, IN FULL, ONE PAGE, 8.5 X 10.25, SEPTEMBER 18, 1967. GRANTING PERMISSION TO HAVE HIS FAMOUS CHECKERS SPEECH PUBLISHED IN A PUBLIC SPEAKING TEXT BOOK.
The Checkers Speech was given on September 23, 1952 in response to charges of improperly using funds raised by his backers. Nixon was the anti-corruption Republican candidate for Vice-President and with the backing of the Republican National Committee gave a half-hour televised speech defending himself and attacking his opponents. During the speech he mentioned that there was one gift he would not return: a black and white dog his children had named Checkers. The speech was followed by an overwhelming outpouring of support and he was retained on the ticket, which won the election. In fine condition.
A wonderful association to Nixon's early political career.
$1500 #10169ZWAU