LIFETIME AUTHENTICITY GUARANTEE WITHOUT TIME LIMIT
BYRD, RICHARD E. AUTOGRAPH ON 3 X 5 CARD WITH BYRD ANTARCTIC EXPEDITION II 3 CENT U.S. POSTAGE STAMP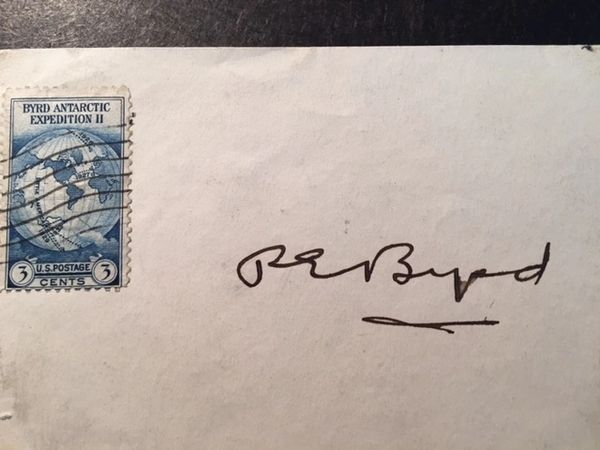 Description
RICHARD E. BYRD AUTOGRAPH ON 3 X 5 CARD WITH BYRD ANTARCTIC EXPEDITION II 3 CENT U.S. POSTAGE STAMP, WITH SOME LIGHT SURFACE SOILING OTHERWISE IN FINE CONDITION.

REAR ADMIRAL RICHARD E. BYRD (1888-1957) American naval officer who specialized in feats of exploration. He was Antarctic and Arctic polar explorer, aviator (first man to fly over both poles), and navigator. He won the Congressional Medal of Honor, the highest honor for heroism given by the United States, for his historic flight over the North Pole. 

$225   #10215                                                                                                                                                                               
(SEE ALSO ITEM #10213 - ADM  BYRD, LT COMMANDER GEORGE O NOVILLE , ROSCOE TURNER;  SIGNED PHOTO AND OTHER BYRD ITEMS #10212 (BYRD SIGNED PLANE CRASH PHOTO), #10214, #10216)
Thank you for visiting our web site. We hope you enjoyed looking at all the wonderful autographs, historic documents, fine art photographs, and interesting memorabilia. Please let us know how we can be of service. We appreciate you letting your friends know about us.