LIFETIME AUTHENTICITY GUARANTEE WITHOUT TIME LIMIT
PRESIDENT WILLIAM MCKINLEY'S ASSASSINATION HANDWRITTEN LETTER SIGNED FROM BROTHER 2 WEEKS LATER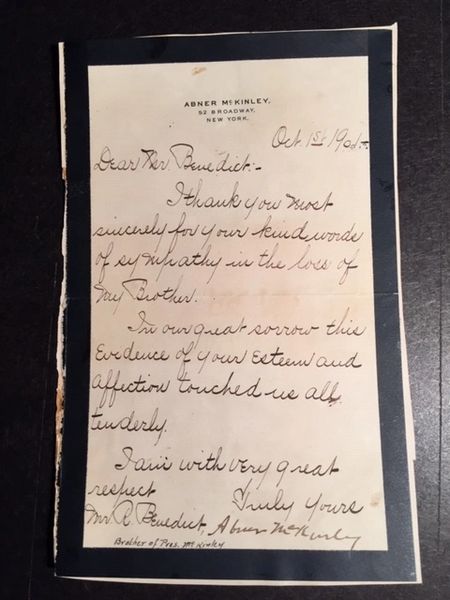 Description
[PRESIDENT WILLIAM MCKINLEY] ASSASSINATION-RELATED LETTER SIGNED FROM ABNER MCKINLEY, HIS BROTHER, "Truly Yours, Abner McKinley", 1p, black bordered mourning stationery, on his personal letterhead, 5 x 8, October 1, 1901, just two weeks after President William McKinley's death, Abner writes a letter of thanks, In full: "Dear Mr. Benedict: - I thank you most sincerely for your kind words of sympathy in the loss of my Brother. In our great sorrow this evidence of your esteem and affection touched us all tenderly. I am with very great respect...." The letter is affixed to a slightly larger sheet. In very good condition, with some light toning, mailing fold and a small notation along bottom.
William McKinley (January 29, 1843-September 14, 1901) was the 25th President of the United States, serving from March 4, 1897, until his assassination six months into his second term. While attending the Pan Pacific Exhibition in Buffalo, NY the President was shot twice by Leon Czolgosz and died a few days later. 
Abner McKinley was born at Niles, Ohio on November 27, 1847, and died on June 11, 1904. He began the study of law in his brother, William McKinley's law office and when admitted to the bar he and the future president formed a law partnership W. & A. McKinley in Canton, OH. In later years he became active in various business ventures dealing with coal lands and inventions. He moved his law practice to New York City in 1897.
$595   #11054