LIFETIME AUTHENTICITY GUARANTEE WITHOUT TIME LIMIT
PALOMA PICASSO SIGNED AND INSCRIBED ART BOOK, PALOMA SPHYNX, PUBLISHED BY HER MOTHER FRANCOISE GILOT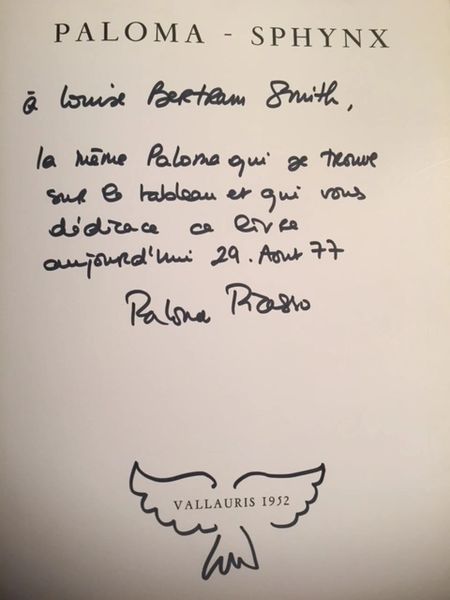 Description
PALOMA PICASSO SIGNED, "Paloma Picasso", AND INSCRIBED (in French, not translated), ART BOOK, PALOMA SPHYNX, 9.5 x 12.5, Paris 1975, self-published by her mother, Francoise Gilot, containing reproductions of a charming collection of drawings Gilot did of Paloma at Vallauris in 1952, and inscribed to Louise Bertram Smith, the discerning collector and patron of Modern Art. Paloma has also drawn a sketch of a sphinx beneath the inscription. In fine condition.
Paloma Picasso: Paloma Picasso, is a French and Spanish fashion designer and businesswoman, best known for her jewelry designs for Tiffany & Co. and her signature perfumes. Her parents are Pablo Picasso and Francoise Gilot.
Francoise Gilot (b. 1921) is a French painter, critic, and bestselling author and is also known as the lover and artistic muse of Pablo Picasso from 1943 to 1953.
Louise Bertram Smith (1904-1995): Was a major collector and patron of Modern Art and a prized supporter of the New York Museum of Modern Art. She was made a trustee of the museum in 1965 and a trustee for life in 1993. She hung several Picasso paintings in her Manhattan apartment and made many gifts to the Museum of Modern Art including paintings by Monet, Braque, Matisse, Degas, Kandinsky, and Seurat.
$395   #10709-B