LIFETIME AUTHENTICITY GUARANTEE WITHOUT TIME LIMIT
PEALE, NORMAN VINCENT SIGNED TYPED LETTER WITH WONDERFUL SCIENCE VS. RELIGION CONTENT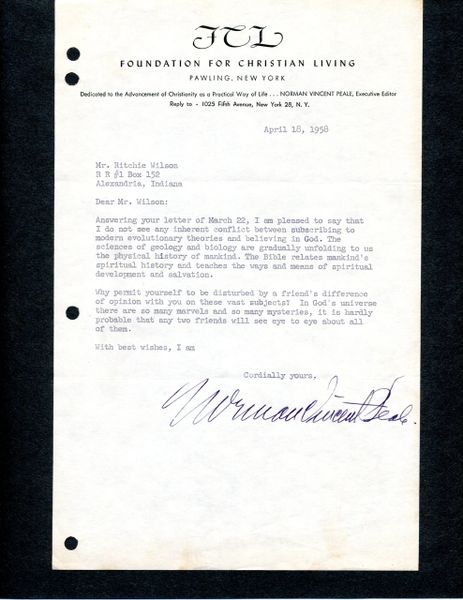 Description
"I do not see any inherent conflict between subscribing to modern evolutionary theories and believing in God."
NORMAN VINCENT PEALE SIGNED TYPED LETTER WITH WONDERFUL SCIENCE VERSES RELIGION CONTENT, one page, on Foundation For Christian Living letterhead, 6.75 x 10.5, April 18, 1958, to Mr. Ritchie Wilson in response to his letter of March 22, 1958 (copy included). In part: "Answering your letter...I am pleased to say that I do not see any inherent conflict between subscribing to modern evolutionary theories and beleifing in God. The sciences of geology and biology are gradually unfolding to us the physical history of mankind. The Bible relates mankind's spiritual history...Why permit yourself to be disturbed by a friend's difference of opinion with you...In God's universe there are so many marvels and so many mysteries...With best wishes, I am, Cordially yours, Norman vincent Peale." Wonderful content of interest to both scientist and a person interested in religion. The letter has three ring binder holes on left side and minor soiling, otherwise is in fine condition. 

Norman Vincent Peale (1898-1993) was an American minister and author of The Power of Positive Thinking.
A copy of Mr. Ritchie Wilson's letter to Reverend Peale, in part: "Reverend Doctor Peale: I would like you advice on a very delicate issue. A friend has informed me that I can not beleieve in God and still believe the evolutionary theories of say - Darwin or the more contemporary ideas presented in modern text books.  I believe that God created man and animals in a series of evolutionary steps over millions of years. Perhaps when the Bible states that Adam and Eve were the first people it means that they were the first of God's chosen people, the Jews...This would lead me to believe that there were other people living on the earth before Adam and Eve...also states that the earth is not millions of years old...I would very much appreciate your help...Very truly yours, Ritchie Wilson."
$350   #10311  (To see other Religious Items CLICK HERE and to see other Science items CLICK HERE )
Thank you for visiting our web site. We hope you enjoyed looking at all the wonderful autographs, historic documents, fine art photographs, and interesting memorabilia. Please let us know how we can be of service. We appreciate you letting your friends know about us.