LIFETIME AUTHENTICITY GUARANTEE WITHOUT TIME LIMIT
NATHAN F. TWINING TYPED LETTER SIGNED BY USAF GENERAL TO AVIATION PIONEER ROSCOE TURNER REGARDING WEAPONS SYSTEMS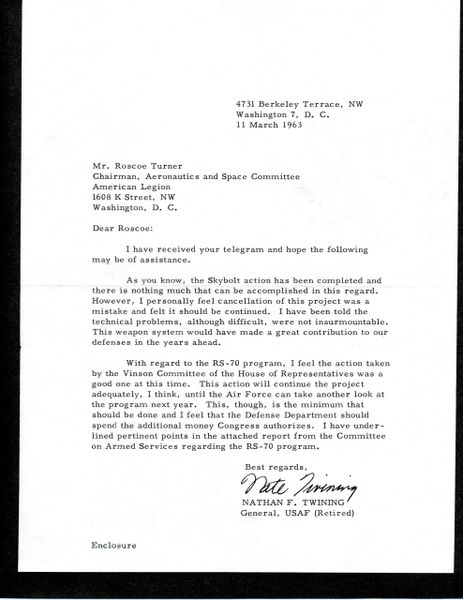 Description
GENERAL NATHAN F. TWINING TYPED LETTER SIGNED TO AVIATION PIONEER ROSCO TURNER REGARDING THE AMERICAN LEGIONS INTEREST IN VARIOUS AIRFORCE WEAPONS PROGRAMS, "Nate Twining", one page, 8.5 x 11, 11 March 1963. In part: "…the Skybolt action has been completed and …I personally feel cancellation of this project was a mistake…With regards to the RS-70 program, I feel the action taken by the Vinson Committee of the House of Representatives was a good one at this time…Best Regards, Nate Twining, General, USAF (Retired). Also included is the original mailing envelope and a copy of the 48 page, House of Representatives, Union Calendar No. 23, "Authorizing Appropriations For Aircraft, Missiles, And Naval Vessels", which reports on the RS-70 program. All three items are in fine condition with one mailing fold line on the letter, some ink notations on the envelope and General Twining's highlights on the report.
Nathan Farragut Twining (October 11, 1897 – March 29, 1982) was a United States Air Force general, born in Monroe, Wisconsin who was in command of the 20th Air Force when Hiroshima and Nagasaki were bombed. In 1942, during WWII, he was sent to the South Pacific where he became chief of staff of the Allied air forces in that area and in 1943 he took over the Fifteenth Air Force from Jimmy Doolittle. In August 1945, General Twining was put in command of the 20th Air Force in the Pacific, which bombed Hiroshima and Nagasaki on August 6 and 9, 1945. He was Chief of Staff of the United States Air Force from 1953 until 1957, and appointed by President Eisenhower as Chairman of the Joint Chiefs of Staff from 1957 to 1960. He was the first member of the Air Force to serve as Chairman.
Roscoe Turner (September 29, 1895 – June 23, 1970) was a record-breaking American aviator who was a three-time winner of the Thompson Trophy air race, and widely recognized by his flamboyant style and his pet lion named Gilmore.
$325 #10721