LIFETIME AUTHENTICITY GUARANTEE WITHOUT TIME LIMIT
MEYER DAVIS SIGNED AND INSCRIBED VINTAGE PHOTO OF SOCIETY MUSICAL BOOKING AGENT TO AVIATION PIONEER ROSCOE TURNER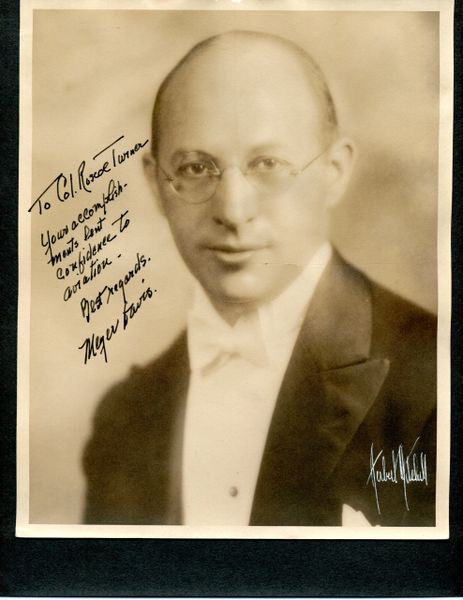 Description
MEYER DAVIS SIGNED AND INSCRIBED VINTAGE PHOTO OF SOCIETY MUSICAL BOOKING AGENT, "To Col. Roscoe Turner, Your accomplishments lent confidence to aviation - Best regards, Meyer Davis", 8 x 10, sepia tone studio portrait. One scratch from center of photo to right margin and some age toning, otherwise in fine condition.

Meyer Davis (Jan.10,1893 - April 5,1976) was not a bandleader in the traditional sense. He was one of the first dance band contractors, supplying orchestras for society gatherings, weddings, hotel ballrooms, country clubs, and presidential balls. There were several Meyer Davis orchestras, often more than one was performing on the same night in the same city. His work helped pioneer the new business of musical booking agent.
Davis formed his first orchestra in 1915, one of the very first dance bands to be established. By 1919 his multiple band empire was well organized. Davis controlled the major market share of society functions in Washington, Philadelphia, New York City, and Boston for over thirty years. He continued in business until the 1960s, recording sporadically.

Roscoe Turner (September 29, 1895 – June 23, 1970) was a record-breaking American aviator who was a three-time winner of the Thompson Trophy air race, and widely recognized by his flamboyant style and his pet lion named Gilmore.

$125 #10717