LIFETIME AUTHENTICITY GUARANTEE WITHOUT TIME LIMIT
MATHILDE MARCHESI SIGNED CABINET PHOTO INSCRIBED TO EMMA NEVADA, 1889, OPERA TEACHER TO OPERA STAR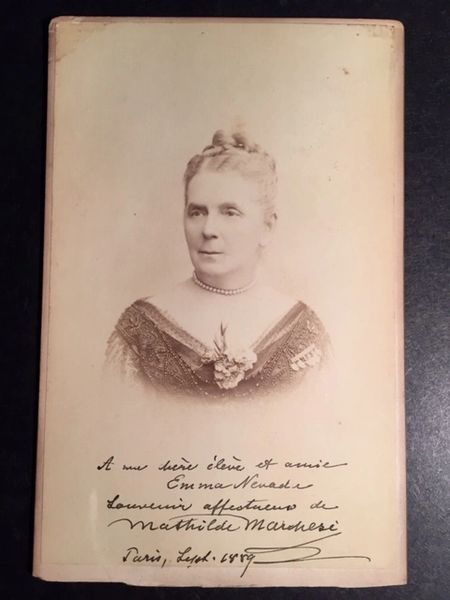 Description
MATHILDE MARCHESI SIGNED CABINET PHOTO INSCRIBED TO EMMA NEVADA, 5 x 8, Paris, 1889, renowned opera teacher to her student and opera star. The photo is by Paris Portrait Benque & Co. Small crease in upper left corner, age toning, otherwise in fine condition.

Mathilde Marchesi (1821-1913) was a German mezzo-soprano, a renowned teacher of singing, and a proponent of the bel canto vocal method. She made her debut as a singer in 1844 and had a short career in opera and recital. In 1849 she moved to teaching and it was in this field that she became famous. She taught at conservatories in Cologne and Vienna and in 1881 opened her own school in Paris, France. Ultimately she was best known as the vocal teacher of a number of great singers, including Nelli Melba and Emma Nevada. She married the Italian baritone and singing teacher Salvatore Marchesi in 1852 (Note: please see our eBay listing for signed cabinet photos for her husband, Salvatore Marchesi and her daughter Blanche Marchesi, also an opera star). She retired in 1908 and published numerous sets of vocal exercises, as well as a book of memoirs." 
Emma Nevada (1859-1940) was an American operatic soprano who was considered one of the finest coloratura sopranos of the late 19th and early 20th centuries.
$695   #10808