LIFETIME AUTHENTICITY GUARANTEE WITHOUT TIME LIMIT
LYNN JOHNSTON ORIGINAL SIGNED PEN AND INK CARTOON, 8 X 5, FOR BETTER OR FOR WORSE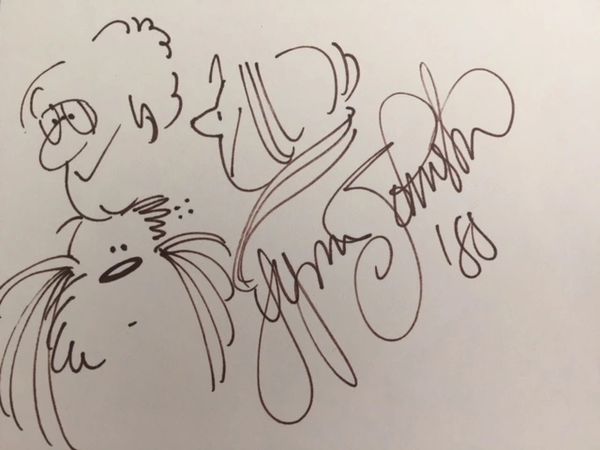 Description
LYNN JOHNSTON ORIGINAL SIGNED AND INSCRIBED PEN AND INK CARTOON, 6X 5, "Lynn Johnston, '80," with characters from her famous comic strip, FOR BETTER OR FOR WORSE, showing Elly Patterson, the stressed out yet loving wife and mother of 3 kids, her dentist husband, John, and the family sheepdog Farley. In fine condition.

$150    #10277  (To see other Comic Art and Animation items CLICK HERE )
Thank you for visiting our web site. We hope you enjoyed looking at all the wonderful autographs, historic documents, fine art photographs, and interesting memorabilia. Please let us know how we can be of service. We appreciate you letting your friends know about us.