LIFETIME AUTHENTICITY GUARANTEE WITHOUT TIME LIMIT
MAZZANTINI, LUIS SIGNED CABINET PHOTO OF SPANISH BULLFIGHTER INSCRIBED TO OPERA STAR EMMA NEVADA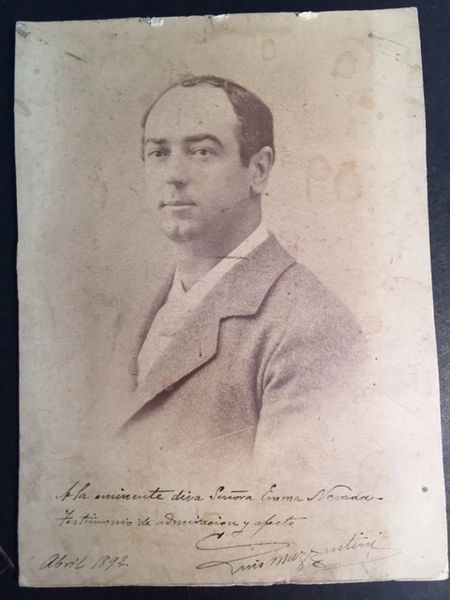 Description
LUIS MAZZANTINI SIGNED CABINET PHOTO, "...for eminente diva Senora Emma Nevada - with admiration and respect, Luis Mazzantini, April 1892", (loose translation from Spanish), 6 x 8.5, Fernando Debas Studio portrait, Madrid, of famous 19th and early 20th century Spanish bullfighter, inscribed to opera star Emma Nevada. Age toning, foxing, stains, small clamp marks at top edge, but the image, inscription, and signature are in fine condition.
Luis Mazzantini (1856-1926) spent his childhood in Italy but after obtaining a Bachelor of Arts degree he returned to Spain. In search of fame and money, he decided to devote himself to bullfighting at a late age and without first being a banderillero. The banderillero is a bullfighter who plants the banderillas (little flags). These are colorful sticks, usually colored with the flag of the banderillero's birthplace, with a barbed point which are increasingly placed in the top of the bull's shoulder. After a period of novillero, an aspiring bullfighter who has not yet attained the rank of matador, he studied at the hands of Rafael Molina Sánchez (1841 - 1900), called Lagartijo (lizard), a Spanish bullfighter, in 1884. Mazzantini became very skilled in the Spanish-style bullfighting, known as a corrida de toros, and went on to kill almost 3000 bulls in the last decade of the 19th century. He was very popular in his time, dressed very elegantly, and rubbed shoulders with high society. He also had artist friends, frequented the opera and literary circles.
Emma Nevada (1859 – 1940) was an American operatic soprano considered one of the finest coloratura sopranos of the late 19th and early 20th centuries.
$695   #10976