LIFETIME AUTHENTICITY GUARANTEE WITHOUT TIME LIMIT
LAURENCE OLIVIER SIGNED TYPED LETTER ON PERSONAL LETTERHEAD WITH FANS TYPESCRIPT DESCRIBING THEIR MEETING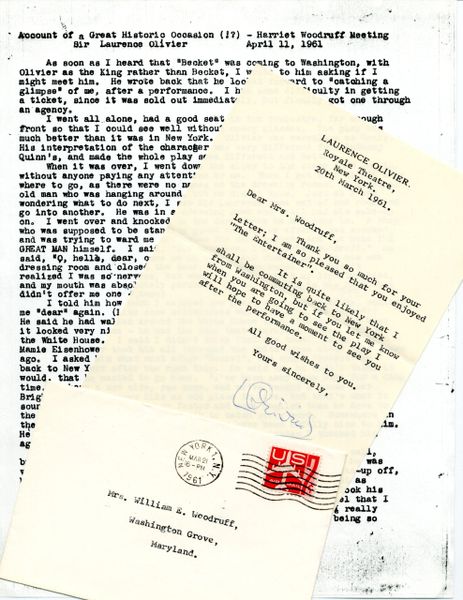 Description
A MEMORABLE MEETING WITH SIR LAURENCE OLIVIER
LAURENCE OLIVIER SIGNED TYPED LETTER ON PERSONAL LETTERHEAD, "L. Olivier," one page, 5 x 7, 20 March 1961, In part: "...I am so p[leased that you enjoyed 'The Entertainer'...if you let me know when you are going to see the play I will hope to have a moment to see you after the performance...Yours sincerely, L. Olivier." He is probably referring to the 1960 film The Entertainer based on the stage play by the same name, that starred Olivier as a failing third-rate music-hall stage performer. At the time of this letter Olivier had recently divorced Vivien Leigh and married actress, Dame Joan Plowright (she had been in the film, The Entertainer, too) in March 1961. The letter and accompanying mailing envelope are in fine condition. Also comes with a wonderful B/W photo of Olivier and a typescript copy in which the fan describes her backstage meeting with the "Great Man himself," In Part: "...O'livier was marvelous as Henry. His interpretation of the character was very different from Anthony Quinn's, and made the whole play seem different and better. When it was over...I saw Sir Laurence come out of one room and into another. He was in his dressing gown...he said come in dear...then shook hands...he had a drink in his hand, but didn't offer me one - damn!...He said he had walked around the White House that afternoon...I have a new wife...we've bought a house near Brighton...He was very nice to me...." The play reference is to Olivier's Washington, D.C. performance as the king Henry in Becket. A wonderful collection of four items that should please any Sir Laurence Olivier fan.

$250 #10297 (To see other Classic Entertainment items CLICK HERE )
Thank you for visiting our web site. We hope you enjoyed looking at all the wonderful autographs, historic documents, fine art photographs, and interesting memorabilia. Please let us know how we can be of service. We appreciate you letting your friends know about us.