LIFETIME AUTHENTICITY GUARANTEE WITHOUT TIME LIMIT
MCCARTHY, JUSTIN TYPED LETTER SIGNED BY IRISH POLITICIAN NOVELIST ON JOHN GREENLEAF WHITTIER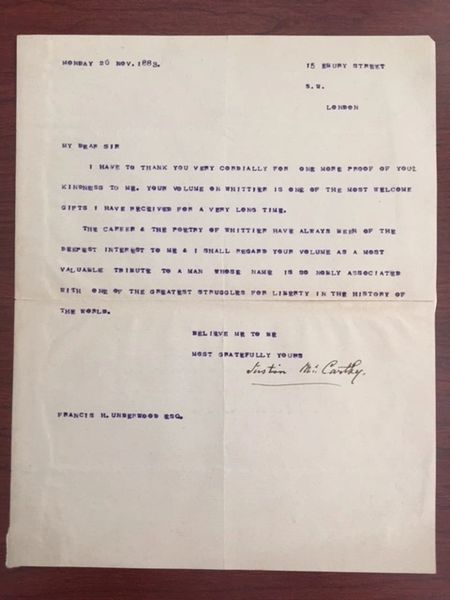 Description
JUSTIN MCCARTHY TYPED LETTER SIGNED, "Justin McCarthy", one page, 8 x 10, London letterhead, November 25, 1883, by Irish politician, novelist, historian, on poet John Greenleaf Whittier. In part: "...The career & the poetry of Whittier have always been of the deepest interest...a man whose name is so newly associated with one of the greatest struggles for liberty in the history of the world." In very good condition, with light overall toning, complete separation to bisecting horizontal fold has been repaired on the reverse, bit of trivial soiling. 

 Justin McCarthy (1830-1912), an Irish nationalist politician who advocated Home Rule as a Member of the British Parliament(1879-1900), was also a prolific journalist, novelist and historian. His most known works include A Fair Saxon (1873), Dear Lady Disdain (1875) and Miss Misanthrope (1878). He also co-authored three books with Rosa Campbell Praed, including their 1886 novel The Right Honourable. His most important work is his History of Our Own Times (vols. i.iv., 1879–1880; vol. v., 1897), which treats of the period between Queen Victoria's accession and her Diamond Jubilee. 
John Greenleaf Whittier (1807-92) was an American Quaker poet and advocate of the abolition of slavery in the United States. Frequently listed as one of the Fireside Poets, he is remembered particularly for his anti-slavery writings.
$150   #11201