LIFETIME AUTHENTICITY GUARANTEE WITHOUT TIME LIMIT
GLENN, JOHN HAND-SIGNED TYPED LETTER ABOUT DON'T ASK, DON'T TELL, PRESIDENT BILL CLINTON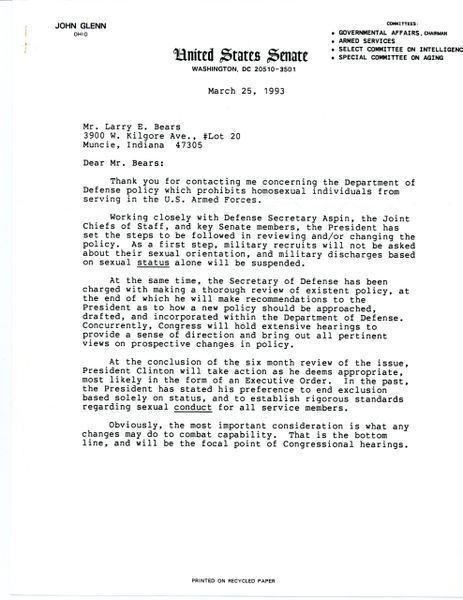 Description
[BILL CLINTON] DON'T ASK, DON'T TELL: ONE OF AMERICA'S BIG SOCIAL ISSUES BEING ADDRESSED BY SENATOR JOHN GLENN
"Don't ask, don't tell" (DADT) was the official United States policy on military service by gays, bisexuals, and lesbians, instituted by the Clinton Administration on February 28, 1994, when Department of Defense Directive 1304.26 issued on December 21, 1993, took effect, lasting until September 20, 2011.
Legislation to repeal DADT was enacted in December 2010, specifying that the policy would remain in place until the President, the Secretary of Defense, and the Chairman of the Joint Chiefs of Staff certified that repeal would not harm military readiness, followed by a 60-day waiting period. A July 6, 2011, ruling from a federal appeals court barred further enforcement of the U.S. military's ban on openly gay service members. President Barack Obama, Secretary of Defense, Leon Panetta, and Chairman of the Joint Chiefs of Staff Admiral, Mike Mullen, sent that certification to Congress on July 22, 2011, which set the end of DADT to September 20, 2011.
JOHN GLENN TYPED LETTER SIGNED
, "JOHN GLENN," AS OHIO SENATOR, TWO PAGES, 8.5 X 11, ON UNITED STATES SENATE LETTERHEAD, MARCH 25, 1993, IN PART: "THANK YOU FOR CONTACTING ME CONCERNING THE DEPARTMENT OF DEFENSE POLICY WHICH PROHIBITS HOMOSEXUAL INDIVIDUALS FROM SERVING IN THE U.S. ARMED FORCES. WORKING CLOSELY WITH THE DEFENSE SECRETARY ASPIN, THE JOINT CHIEFS OF STAFF, AND KEY SENATE MEMBERS, THE PRESIDENT HAS SET THE STEPS TO BE FOLLOWED IN REVIEWING AND/OR CHANGING THE POLICY. AS A FIRST STEP, MILITARY RECRUITS WILL NOT BE ASKED ABOUT THEIR SEXUAL ORIENTATION, AND MILITARY DISCHARGES BASED ON SEXUAL STATUS ALONE WILL BE SUSPENDED.
AT THE SAME TIME, THE SECRETARY OF DEFENSE HAS BEEN CHARGE WITH...WILL MAKE RECOMENDATIONS TO THE PRESIDENT...CONGRESS WILL HOLD EXTENSIVE HEARINGS...PRESIDENT CLINTON WILL TAKE ACTION AS HE DEEMS APPROPRIATE...THE MOST IMPORTANT CONSIDERATION IS WHAT ANY CHANGES MAY DO TO COMBAT CAPABILITY...."
A HISTORIC LETTER DISCUSSING THE PROCEDURE PRESIDENT CLINTON WOULD BE TAKING TO REVIEW ONE OF THE MOST IMPORTANT SOCIAL ISSUES OF THE LAST SEVERAL DECADES.  IN FINE CONDITION.   $425  #10068