LIFETIME AUTHENTICITY GUARANTEE WITHOUT TIME LIMIT
KINNEY, JOHN F. SIGNED UTAH JUDGE WHO PRESIDED LATTER DAY SAINT TRIAL OF MORRISITE WAR MORMONS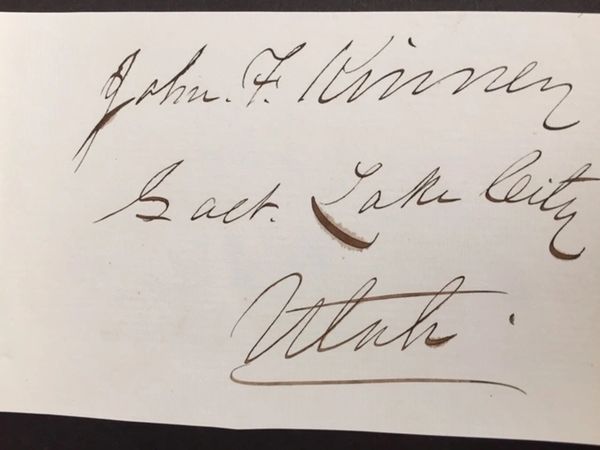 Description
JOHN F. KINNEY SIGNED CUT SIGNATURE, "John F. Kinney, Salt Lake City, Utah",  5.25 x 3.5, very large ink signature, by the Utah Supreme Court Judge who presided at the Latter Day Saint trial of the Morrisite War Mormons. Kinney was also a Civil War Congressman who was the Territory of Utah's delegate to the 38th Congress. When his wife died he remarried Lucy Jane Leonard (1826-1911) the widow of Moses Thurston (1817-73), a Mormon pioneer. In fine condition.

John Fitch Kinney (1816-1902) was a prominent American attorney, judge, and Democratic politician. He served as Justice of the Supreme Court of Iowa, twice as Chief Justice of the Supreme Court of the Territory of Utah and one term as the Territory of Utah's Delegate in the House of Representatives of the 38th Congress during the U.S. Civil War.. President Pierce had appointed Kinney as Chief Justice of the Supreme Court of the Territory of Utah, and he served in that position from January 1854 until 1857, just before the Utah War. He was re-appointed Chief Justice of the Territory of Utah by President Buchanan and served from June 26, 1860 until March 1863. He was directly involved in the events leading up to the Morrisite War of 1862.
The Morrisite War of 1862:  was a skirmish between a Latter Day Saint sect known as the "Morrisites" and the Utah territorial government. Joseph Morris, an English convert to the Church of Jesus Christ of Latter-day Saints in Utah, was excommunicated in 1861 and he organized the Church of the First Born at Kington Fort a previously abandoned fort. There were some disagreements between some of the members and word reached John F. Kinney, appointed two years earlier by James Buchanan as chief justice of the Utah Territory, that the Morrisites were illegally holding prisoners. On May 24 he issued a writ of habeas corpus commanding the prisoners' release. A U.S. Marshal brought the writ to Kington Fort and read it to the Morrisite leaders, who refused to receive it. Justice Kinney then asked the acting governor to activate the territorial militia as a posse to arrest the Morrisite leaders. Several people were killed over the next few days and eventually 90 men were arrested and taken back to Salt Lake City to stand trial before judge Kinney. Seven of the Morrisites were convicted of second-degree murder in March 1863, and another 66 were convicted of resistance. However, Stephen S. Harding, the new federally appointed territorial governor, pardoned them all three days after the conviction. 
$250  #11090