LIFETIME AUTHENTICITY GUARANTEE WITHOUT TIME LIMIT
JOHN DILLINGER FRONT PAGE HEADLINE THE ATLANTA CONSTITUTION: DILLINGER SURROUNDED AFTER SHOOTING 2 OFFICERS; WISCONSIN GUARDSMEN CALLED TO AID IN CAPTURE AND COPIES OF FBI WANTED POSTER AND CHICAGO CORONERS DEATH CERTIFICATE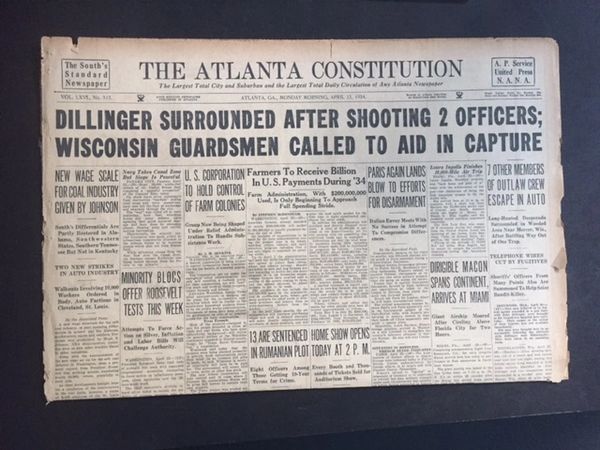 Description
DILLINGER: "DILLINGER SURROUNDED AFTER SHOOTING 2 OFFICERS; WISCONSIN GUARDSMEN CALLED TO AID IN CAPTURE
Authentic, original The Atlanta Constitution, 10 pp, 17 x 22.75, April 23, 1934. Front page double banner headline: "DILLINGER SURROUNDED AFTER SHOOTING 2 OFFICERS; WISCONSIN GUARDSMEN CALLED TO AID IN CAPTURE" and several other sub-heads "7 OTHER MEMBERS OF OUTLAW CREW EXCAPE IN AUTO", "Long-Hunted Despardo Surrounded in Wooded Area Near Mercer, Wis., After Battling Way Out of One Trap", "Telephone Wires Cut By Fugitives", "Sheriffs' Officers From Many Points Also Are Summoned To Help Seize Bandit-Killer", all on the front page. General age toning and edge flaking, otherwise in near fine condition. Also included are a copy of the FBI Dillinger Wanted Poster and a copy of the Chicago Coroners Death Report dated three months later.
John Herbert Dillinger (June 22, 1903 – July 22, 1934) was an American gangster in the Depression-era United States. He operated with a group of men known as the Dillinger Gang or Terror Gang, which was accused of robbing 24 banks and four police stations, among other activities. Dillinger escaped from jail twice. He was also charged with, but never convicted of, the murder of an East Chicago, Indiana, police officer who shot Dillinger in his bullet-proof vest during a shootout, prompting him to return fire; despite his infamy, it was Dillinger's only homicide charge.
FBI Director J. Edgar Hoover developed a more sophisticated Bureau as a weapon against organized crime, using Dillinger and his gang as his campaign platform.
$210 #10632 (Also see other John Dillinger items in our inventory)