LIFETIME AUTHENTICITY GUARANTEE WITHOUT TIME LIMIT
DILLINGER, JOHN FRONT PAGE HEADLINE ORIGINAL NEWSPAPER THE CHRONICLE NEWS: SEARCHING PROBE INTO DILLINGER ESCAPE IS CARRIED ON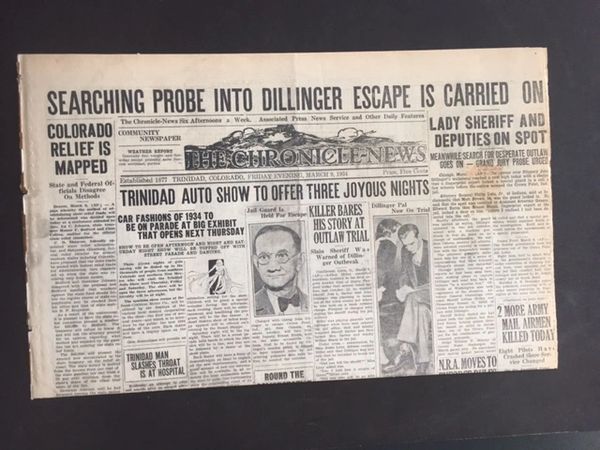 Description
DILLINGER: SEARCHING PROBE INTO DILLINGER ESCAPE IS CARRIED ON
Authentic original Trinidad, Colorado, The Chronicle-News, 10 pp, 17 x 22.75, March 9, 1934. Front page banner headline "Searching Probe Into Dillinger Escape Is Carried On". Two columns describe the escape and place blame as seen in the sub-heading "Lady Sheriff And Deputies On Spot/Meanwhile Search For Desperate Outlaw Goes On - Grand Jury Probe Urged." There is a photo of Dillinger triggerman Harry Pierpont shown in consultation with his female attorney together with another photo of the jail guard being "held for the escape". There is also testimony that "Slain Sheriff Was Warned of Dillinger Outbreak". Excellent content all on the front page. Right edge of front page slightly trimmed and small light stain at top right corner of text of negligible affect; light general toning; else in very good condition. Also included are a copy of the FBI Dillinger Wanted Poster and a copy of the Chicago Coroners Death Report dated four month later. 
John Herbert Dillinger (June 22, 1903 – July 22, 1934) was an American gangster in the Depression-era United States. He operated with a group of men known as the Dillinger Gang or Terror Gang, which was accused of robbing 24 banks and four police stations, among other activities. Dillinger escaped from jail twice. He was also charged with, but never convicted of, the murder of an East Chicago, Indiana, police officer who shot Dillinger in his bullet-proof vest during a shootout, prompting him to return fire; despite his infamy, it was Dillinger's only homicide charge.
FBI Director J. Edgar Hoover developed a more sophisticated Bureau as a weapon against organized crime, using Dillinger and his gang as his campaign platform.
$175  #10629      (Also see other John Dillinger items in our inventory)