LIFETIME AUTHENTICITY GUARANTEE WITHOUT TIME LIMIT
JOHN DILLINGER DEATH MASK, ORIGINAL NEWSPAPER WITH FRONT PAGE HEADLINE OF HIS DEATH, AND COPIES OF FBI REPORTS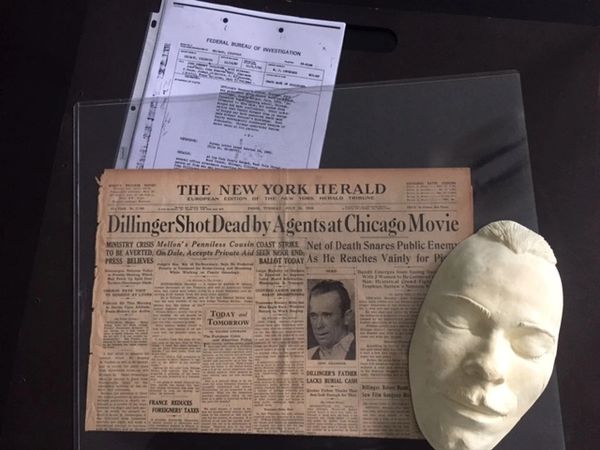 Description
JOHN DILLINGER DEATH MASK, ORIGINAL NEW YORK HEARLD NEWSPAPER WITH FRONT PAGE HEADLINE OF HIS DEATH, AND COPY OF THE FEDERAL BUREAU OF INVESTIGATION REPORTS REGARDING THE DEATH MASK CREATION
JOHN DILLINGER DEATH MASK OF FAMOUS AMERICAN BANK ROBBER AND GANGSTER, probably taken from the original plaster cast made of Dillinger's face as he lay in the Cook County Morgue, July 22-23, 1934, 10 x 5.75, in fine condition. Comes with an original 8-Page European Edition of the New York Herald newspaper, with the large, bold front page headline; "Dillinger Shot Dead by Agents at Chicago Movie/Net of Death Snares Public Enemy As He Reaches Vainly for Pistol", July 24, 1934, with his photo and four related stories all on the front page. The paper has age toning and some minor edge flaking. Also included is a 13 page copy of the Federal Bureau of Investigation report regarding the controversy surrounding the creation of the Dillinger Death Mask. This is an incredible combination of three items for the serious crime memorabilia collector.
SOME KEY FACTS REGARDING THE DILLINGER "DEATH MASK"
The origin of the "Death Mask" of John Dillinger has been discussed by many over the years and copies are still found at auctions. There are actually two FBI reports on this matter revealing the facts surrounding obtaining the mask. The FBI received one original of two made at the morgue and this mask was shipped by the Reliance Dental Manufacturing Company in January, 1935. These facts, and more, are revealed in copies of two FBI reports of the preliminary investigation regarding the origin of the mask.
The death mask here offered is most likely created from a first generation mold. Later generation copies tend to lose some detail but this death mask has maintained a strong sense of definition in the features of Dillinger's face, including the impression at the corner of the right eye, caused by the bullet which had entered Dillinger's neck and had come out at that point. This group comes from the holdings of a Brown County, Indiana crime memorabilia collector.
John Herbert Dillinger (June 22, 1903 – July 22, 1934) was an American gangster in the Depression-era United States. He operated with a group of men known as the Dillinger Gang or Terror Gang, which was accused of robbing 24 banks and four police stations, among other activities. Dillinger escaped from jail twice. He was also charged with, but never convicted of, the murder of an East Chicago, Indiana, police officer who shot Dillinger in his bullet-proof vest during a shootout, prompting him to return fire; despite his infamy, it was Dillinger's only homicide charge.
FBI Director J. Edgar Hoover developed a more sophisticated Bureau as a weapon against organized crime, using Dillinger and his gang as his campaign platform.
$1500 #10624 (Also see other John Dillinger items in our inventory)