LIFETIME AUTHENTICITY GUARANTEE WITHOUT TIME LIMIT
JOHN D. RYAN TYPED LETTER SIGNED BY USAF GENERAL REGARDING THE DEATH OF AVIATION PIONEER ROSCOE TURNER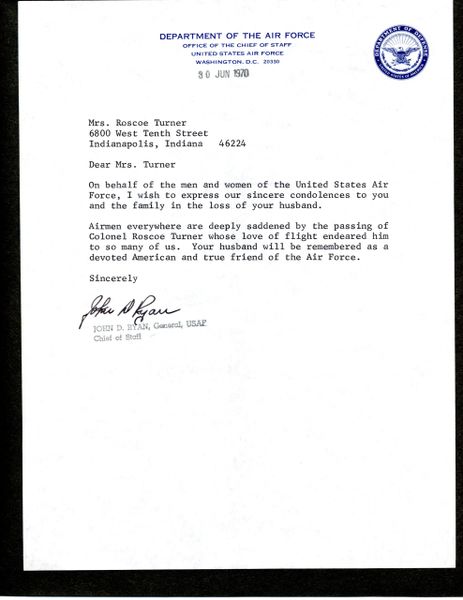 Description
GENERAL JOHN D. RYAN TYPED LETTER SIGNED REGARDING THE DEATH OF AVIATION PIONEER ROSCOE TURNER, "John D. Ryan", one page, 30 Jun 1970, on Department of the Air Force, Office of the Chief of Staff letterhead, 8 x 10, to Mrs. Roscoe Turner, Indianapolis, IN. In part: "…Airmen everywhere are deeply saddened by the passing of Colonel Roscoe Turner whose love of flight endeared him to so many of us. Your husband will be remembered as a devoted American and true friend of the Air Force." In fine condition.
General John Dale Ryan (December 10, 1915 – October 27, 1983) was the seventh Chief of Staff of the United States Air Force. As chief of staff of the U.S. Air Force, General Ryan served in a dual capacity. He was a member of the Joint Chiefs of Staff, which, as a body, acts as the principal military adviser to the president, the National Security Council, and the Secretary of Defense. In his other capacity, he was responsible to the Secretary of the Air Force for managing the vast human and materiel resources of the world's most powerful aerospace force.
During WWII, while commanding the 2d Bombardment Group, he lost a finger to enemy antiaircraft fire. Later on, this resulted in his nickname, sometimes used derisively, "Three-fingered Jack." In 1946 he participated in the Bikini Atoll atomic weapons tests. The general was appointed vice chief of staff of the U.S. Air Force in August 1968, and chief of staff of the U.S. Air Force in August 1969.
Roscoe Turner (September 29, 1895 – June 23, 1970) was a record-breaking American aviator who was a three-time winner of the Thompson Trophy air race, and widely recognized by his flamboyant style and his pet lion named Gilmore.
$95 #10722