LIFETIME AUTHENTICITY GUARANTEE WITHOUT TIME LIMIT
JOAN CRAWFORD SIGNED LETTER ON PERSONAL STATIONARY WITH HOLLYWOOD AND TELEVISION CONTENT - MATTED ENSEMBLE BY WALT DISNEY CO.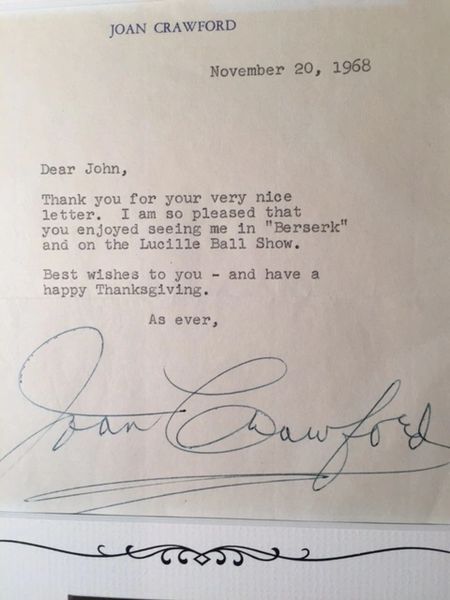 Description
AMERICAN ACADEMY AWARD WINNING ACTRESS JOAN CRAWFORD TYPED LETTER BOLDLY SIGNED, "Joan Crawford," one page, 6 x 6, on personal letterhead, November 20, 1968, to a fan. In full: "Dear John, Thank you for your very nice letter. I am so pleased that you enjoyed seeing me in 'Berserk' and on the Lucille Ball Show. Best Wishes to you - and have a happy Thanksgiving. As ever," and signed with a huge signature. A beautiful ensemble by the Walt Disney Company: double-matted with a striking black and white photo and descriptive brass plaque, to an overall size of 17 x 13. Disney registration label on back of matting. In fine condition.

JOAN CRAWFORD (1904-77) Won an Academy Award for Mildred Pierce (1945) and was nominated for Best Actress for Possessed (1947) and Sudden Fear (1952).
$395 #10183