LIFETIME AUTHENTICITY GUARANTEE WITHOUT TIME LIMIT
JOAN CRAWFORD SIGNATURE ON TYPED LETTER SIGNED, PERSONAL LETTERHEAD, 6 X 7, ABOUT HER AUTOBIOGRAPHY, MY WAY OF LIFE, AND ESTEE LAUDER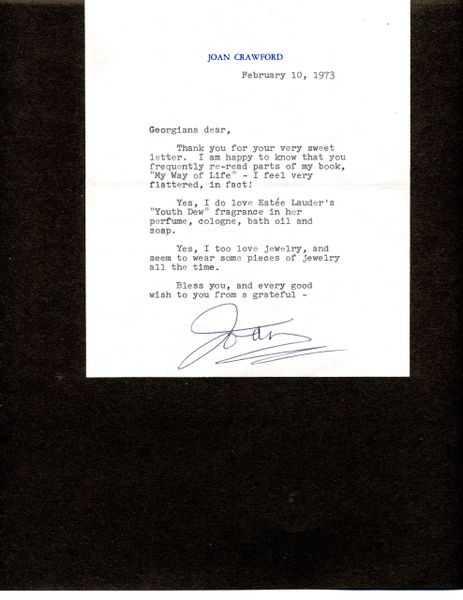 Description
JOAN CRAWFORD SIGNATURE ON TYPED LETTER SIGNED ON PERSONAL LETTERHEAD, ONE PAGE, 6 X 7, ABOUT HER AUTOBIOGRAPHY, MY WAY OF LIFE, AND ESTEE LAUDER. In part: "...my book, "My Way of Life"...I do love Estee Lauder's "Youth Dew"...Yes, I too love jewelry...Bless you, and every good wish to you from a grateful - Joan." Comes with a gorgeous 8 x 10 B/W glamour photo. The letter and photo would make a beautiful framed ensemble.

AMERICAN ACADEMY AWARD WINNING ACTRESS JOAN CRAWFORD (1904-77) Won an Academy Award for Mildred Pierce (1945) and was nominated for Best Actress for Possessed (1947) and Sudden Fear (1952).
$295 #10194
Please note we have several other Joan Crawford autographed letters in our inventory. Enter her name in our search box and see what other great content letters we have available. Thank you for your patronage. Please tell your friends about our web site.