LIFETIME AUTHENTICITY GUARANTEE WITHOUT TIME LIMIT
JIMMY DOOLITTLE SIGNATURE WITH WWII PHOTO OF HIM SIGNED BY TOKYO RAIDER COL. TRAVIS HOOVER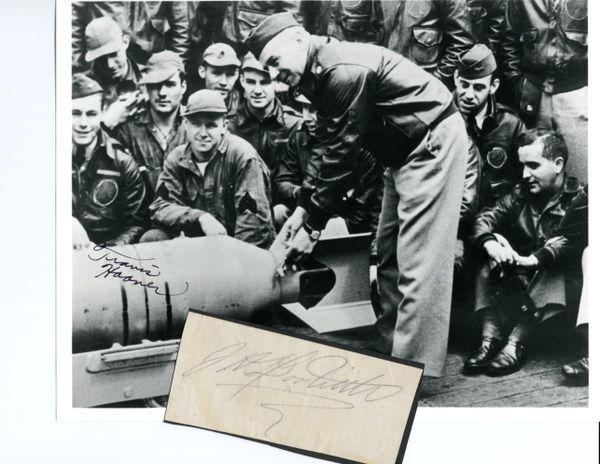 Description
JAMES HAROLD "JIMMY" DOOLITTLE LARGE PENCIL SIGNATURE ON PIECE OF CREAM COLORED PAPER, 4.25 X 2, "J. H. DOOLITTLE," WITH A FAMOUS PHOTO TAKEN JUST BEFORE HIS MEDAL OF HONOR WINNING RETALITORY AIR RAID TO BOMB THE JAPANESE MAINLAND JUST WEEKS AFTER THEIR ATTACK ON PEARL HARBOR. LT. COL. JIMMY DOOLITTLE IS SHOWN, IN MILITARY UNIFORM, WITH HIS RAIDERS AS HE ATTACHES ONE OF HIS JAPANESE MEDALS, THAT HE HAD RECEIVED IN THE 1930'S, TO THE FIRST 500-POUND BOMB TO BE DROPPED ON JAPAN. THE PHOTO WAS TAKEN ON THE FLIGHT DECK OF USS HORNET SHORTLY BEFORE HIS FORCE OF SIXTEEN B-25B BOMBERS TOOK OFF ON THE TOP SECRET MISSION. THE PLANES WERE LAUNCHED ON APRIL 18, 1942. DOOLITTLE'S CREW BAILED OUT SAFELY OVER CHINA WHEN THEIR BOMBER RAN OUT OF FUEL.
THE PHOTO HAS BEEN SIGNED BY COL. TRAVIS HOOVER THE PILOT ON THE SECOND B-25 TO TAKE OFF FROM THE AIRCRAFT CARRIER. AFTER BOMBING TOKYO HIS CREW FLEW TO CHINA AND CRASH LANDED WITH NO INJURIES. COL. HOOVER WAS AWARDED THE SILVER STAR FOR ACTIONS DURING WWII.
TWO GREAT ITEMS MARKING THE HISTORY OF THE FAMOUS FLIGHT OF THE DOOLITTLE TOKYO RAIDER'S.
$750 #10066