LIFETIME AUTHENTICITY GUARANTEE WITHOUT TIME LIMIT
COBB, IRVIN S. TYPED LETTER SIGNED GIVING ADVICE ON WRITING BY AUTHOR, HUMORIST, EDITOR, ACTOR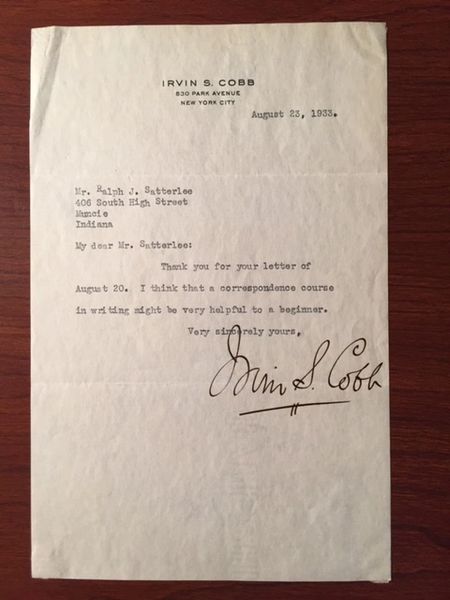 Description
IRVIN S. COBB TYPED LETTER SIGNED, "Irvin S. Cobb", 5.5 x 8.5, on personal letterhead, August 23, 1933, giving advice on writing, by author, humorist, editor, and actor. In part: "...I think a correspondence course in writing might be very helpful to a beginner...." Minor crease in upper corners, otherwise in fine condition.  

Irvin S. Cobb (1876-1944) was an American author, humorist, editor and columnist from Paducah, Kentucky, who relocated to New York in 1904, living there for the remainder of his life. He wrote for the New York World, Joseph Pulitzer's newspaper, as the highest paid staff reporter in the United States. Several of Cobb's stories were adapted as silent movies. He also wrote the screen titles for other movies, including the Jackie Coogan movie, Peck's Bad Boy (1921). With the advent of sound, more of his stories were adapted for the screen, including The Woman Accused (1933), featuring young Cary Grant. 
John Ford twice made movies based on Cobb's Judge Priest stories: Judge Priest (1934) featured Will Rogers in the title role. The Sun Shines Bright (1953) was based on his short stories "The Sun Shines Bright", "The Mob from Massac", and "The Lord Provides".
Cobb also had an acting career, acting in ten movies between 1932 and 1938. He won major roles in such movies as Pepper, Everybody's Old Man (1936), and Hawaii Calls (1938). He was also host of the 7th Academy Awards in 1935.
$125   #11197