LIFETIME AUTHENTICITY GUARANTEE WITHOUT TIME LIMIT
HARTFORD, HUNTINGTON TYPED LETTER SIGNED BY BUSINESSMAN, STAGE AND FILM PRODUCER, TO SCREENWRITER PAUL DE SAINTE COLOMBE WHO LATER CO-FOUNDED GRAPHOTHERAPY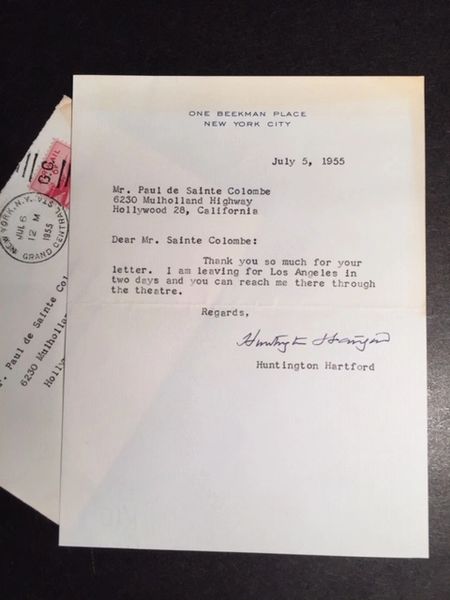 Description
HUNTINGTON HARTFORD TYPED LETTER SIGNED, "Huntington Hartford", one page, 5.75 x 7.75, on his personal "ONE BEEKMAN PLACE, NEW YORK CITY" letterhead, July 5, 1955, by A&P heir, philanthropist, stage and film producer, art collector. The letter is to screenwriter Paul de Sainte Colombe who later co-founded Graphotherapy following the publication of his bestseller on the subject. Comes with the original mailing envelope. Both items in fine condition, with just a little age toning.

George Huntington Hartford II (April 18, 1911 – May 19, 2008) was an American businessman, philanthropist, stage and film producer, and art collector. He was also heir to the A&P supermarket fortune. He owned Paridise Island in the Bahamas. He was one of the richest people in the world at the time. He also opened the Huntington Hartford Theatre (which he mentions in this letter) in Los Angeles (1954) which was an L.A. venue for Broadway-scale productions.
Mr. Paul de Sainte Colombe held degrees in Philosophy, Literature and Law.  Returning from WWI, Paul practiced law in Paris.  His literary creativity found a new outlet in all medias.  When France fell to Hitler, Paul was in Hollywood in connection with a motion picture he had written.  Here he remained and in 1946 became a U.S. citizen. 
Mr. de Sainte Colombe also pursued a lifelong research in, and practiced of, graphology.  He participated in the pioneering work on Graphotherapy conducted at the Sorbonne (1929-1931) by the renowned physician and psychologist, Dr. Pierre Janet (Freud's teacher) whose clinical tests proved its efficacy.  This work became the basis of the alphabet Mr. de Sainte Colombe developed with letter formations allowing for creativity, legibility, and simplicity.
$195  #10949