LIFETIME AUTHENTICITY GUARANTEE WITHOUT TIME LIMIT
HONEYMOONERS SIGNED CAST ENSEMBLE JACKIE GLEASON, ART CARNEY, AUDREY MEADOWS, AND JOYCE RANDOLPH BEAUTIFULLY DOUBLE-MATTED AND FRAMED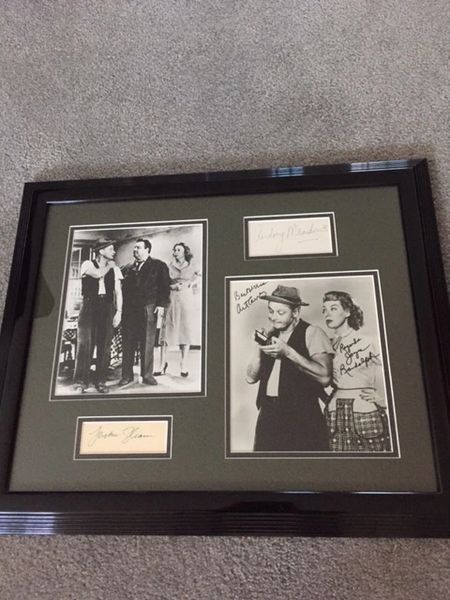 Description
THE HONEYMOONERS SIGNED CAST ENSEMBLE JACKIE GLEASON, ART CARNEY, AUDREY MEADOWS, AND JOYCE RANDOLPH beautifully double-matted and framed in black lacquer to an overall size of 23.5 x 19.5. THE ENSEMBLE INCLUDES A BOLD AUTOGRAPH "JACKIE GLEASON," ON 4 X 2 PAPER, A SIGNATURE "AUDREY MEADOWS," ON 4.5 X 2.5 PAPER, AND AN 8 X 10 B/W PHOTO SIGNED "BEST WISHES, ART CARNEY, AND REGARDS, JOYCE RANDOLPH." A wonderful presentation of an iconic American comedy team ready to hang on your wall. In fine condition. 

THE HONEYMOONERS IS AN AMERICAN SITCOM, BASED ON A RECURRING 1951-55 SKETCH OF THE SAME NAME. JACKIE GLEASON REVIVED THE SERIES SPORADICALLY UNTIL 1978. NEW YORK BUS DRIVER (RALPH KRAMDEN) AND HIS SEWER WORKING FRIEND (ED NORTON) STRUGGLE TO STRIKE IT RICH WHILE THEIR WIVES (ALICE AND TRIXIE) LOOK ON WITH WEARY PATIENCE.
$1100   #10205  (OTHER HONEYMOONER ITEMS AVAILABLE: #10206 AND #10207)
Thank you for visiting our web site. We hope you enjoyed looking at all the wonderful autographs, historic documents, fine art photographs, and interesting memorabilia. Please let us know how we can be of service. We appreciate you letting your friends know about us.