LIFETIME AUTHENTICITY GUARANTEE WITHOUT TIME LIMIT
HOAGY CARMICHAEL HANDWRITTEN NOTE SIGNED MENTIONING AMERICAN BANDLEADER AND PIANIST VINCENT LOPEZ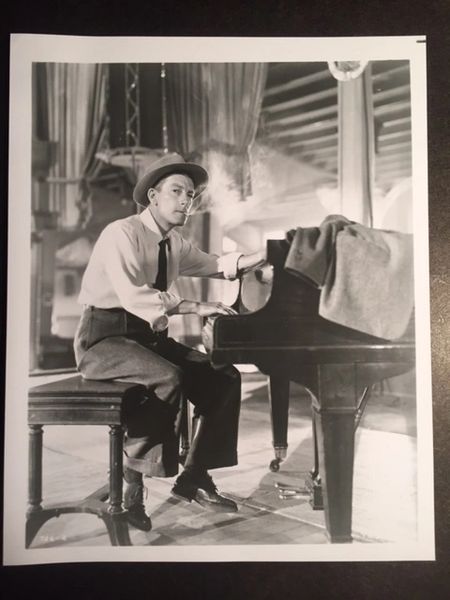 Description
HOAGY CARMICHAEL HANDWRITTEN NOTE SIGNED "Hoagy Carmichael," on an irregularly cut 4.75 x 4 tan sheet, mentioning American bandleader and pianist Vincent Lopez. In full: "No false start about this guy Lopez - Enjoyed the evening and Chicago beer even if it did put frogs in my throat." Comes with a great Hoagy Carmichael, 8x10, B/W photo of him at the piano. The two items would make a nice framed presentation.
Howard Hoagland "Hoagy" Carmichael (November 22, 1899 – December 27, 1981) was an American composer, pianist, singer, actor, and bandleader. Carmichael composed several hundred songs, including fifty that achieved hit record status. He is best known for composing the music for "Stardust", "Georgia on My Mind", "The Nearness of You", and "Heart and Soul" (in collaboration with lyricist Frank Loesser), four of the most-recorded American songs of all time.
Vincent Lopez (1895 –1975) American bandleader and pianist. On November 27, 1921 his band began broadcasting on the new medium of entertainment radio; the band's weekly 90-minute show on Newark, NJ station WJZ boosted the popularity of both him and of radio. He became one of America's most popular bandleaders, and would retain that status through the 1940s. In 1922, Vincent first recorded the bouncy piano instrumental, "Nola", and it became his signature tune, always included in any of his appearances. Lopez worked occasionally in feature films and in 1940 he was one of the very first bandleaders to work in Soundies movie musicals. Lopez's flamboyant style of piano playing influenced such later musicians as Eddy Duchin and Liberace. In 1941 Lopez's Orchestra began a residency at the Taft Hotel in Manhattan that would last 20 years.
$275 #10539