LIFETIME AUTHENTICITY GUARANTEE WITHOUT TIME LIMIT
BEECHER, HENRY WARD SIGNATURE, CLERGYMAN, EVANGELIST, ANTI SLAVERY, WOMENS SUFFRAGE, EVOLUTION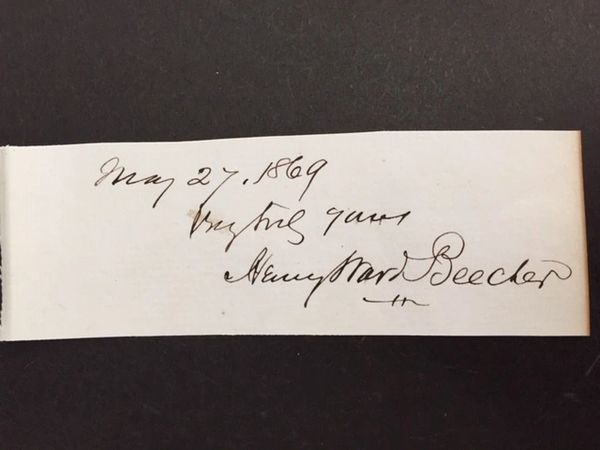 Description
HENRY WARD BEECHER SIGNATURE, "May 27, 1869, Very Truly Yours, Henry Ward Beecher", 5.5 x 2, of clergyman, evangelist, leader in the antislavery movement, a proponent of women's suffrage, and advocate for the theory of evolution. Age toning, otherwise in fine condition. 

Henry Ward Beecher (1813-1887) was an American Congregationalist clergyman, best known evangelist of his era, social reformer, and speaker, known for his support of the abolition of slavery, his emphasis on God's love, and his 1875 adultery trial. 
He campaigned unsuccessfully to become a delegate to the New York Constitutional Convention of 1867-68 on a suffrage platform, and in 1869, the year of this signature, was elected unanimously as the first president of the American Woman Suffrage Association. 

$110   #10996