LIFETIME AUTHENTICITY GUARANTEE WITHOUT TIME LIMIT
HAROLD GATTY SIGNED AIRMAIL POSTAL COVER FLOWN BY THE AVIATION NAVIGATOR WHO ACCOMPANIED PILOT WILEY POST ON A RECORD-BREAKING ROUND-THE-WORLD-FLIGHT FROM JUNE 23-JULY1, 1931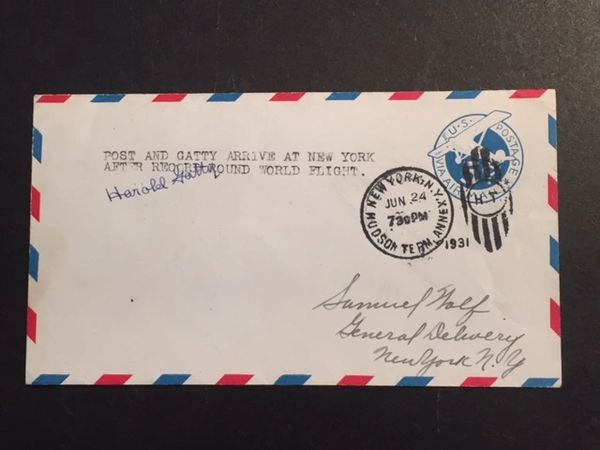 Description
HAROLD GATTY SIGNED AIRMAIL POSTAL COVER, "Harold Gatty," actually flown by the aviation navigator who accompanied pilot Wiley Post on a record-breaking round-the-world-flight from June 23-July1, 1931, 6.25 x 3.5, postmarked June 24, 1931, in fine condition. This flight set the record for aerial circumnavigation of the world, flying a distance of 15,747 miles in a Lockheed Vega named the Winnie Mae. Gatty and Post received the Distinguished Flying Cross from President Hoover.

$325 #10353 (To see other Aviation and Space items CLICK HERE)
Thank you for visiting our web site. We hope you enjoyed looking at all the wonderful autographs, historic documents, fine art photographs, and interesting memorabilia. Please let us know how we can be of service. We appreciate you letting your friends know about us.