LIFETIME AUTHENTICITY GUARANTEE WITHOUT TIME LIMIT
GERMAN AVIATION PIONEERS HAND SIGNED BY CREW D-1422 W. VON GRONAU, E. ZIMMER, F. ALBRECHT, F. HACK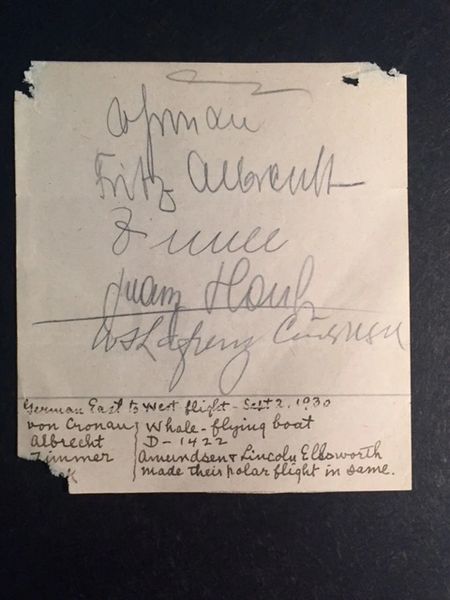 Description
GERMAN AVIATION PIONEERS HAND SIGNED BY CREW D-1422 WOLFGANG VON GRONAU, EDUARD ZIMMER, FRITZ ALBRECHT, FRANZ HACK, "v. Gronau", "Fritz Albrecht", "Zimmer", "Franz Hack", and one additional unidentified signature, all in pencil, on tan paper 4 x 4.5. Very rare to have all four signatures together on the same item. At the bottom of the paper there are notations in another hand regarding this historic flight. The paper has three horizontal folds, corner chips, age toning but all of the signatures are in fine condition.

Wolfgang von Gronau, co-pilot Edward Zimmer, Fritz Albrecht and Franz Hack, took off from Warnemunde, Germany in the Dornier "Wal" open flying boat D-1422 to become the first pilot to cross the North Atlantic, East to West. After nine days in-transit, von Gronau lands on the Hudson River in New York harbor.
German aviation pioneer Wolfgang von Gronau [1893 1977] was a World War I naval pilot, aviation pioneer and record flight holder who flew a Dornier seaplane on a transatlantic east to west record flight in 1930, and completed a round the world flight in a two engine Dornier seaplane in 1932. Eduard Zimmer was an early aviation pioneer who flew as co-pilot for Gronau on many of his flights.
$495 #10759