LIFETIME AUTHENTICITY GUARANTEE WITHOUT TIME LIMIT
KENNEY, GENERAL GEORGE C. SIGNED 12-PAGE TYPESCRIPT OF CHAPTER 8 OF HIS BOOK, THE MACARTHUR I KNOW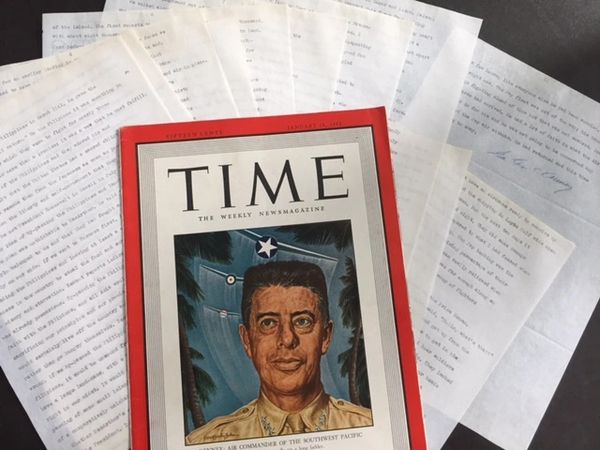 Description
GENERAL GEORGE C. KENNEY AND GENERAL DOUGLAS MACARTHUR: "ALL OF US HAD WADED ASHORE IN WATER ABOVE OUR KNEES"
$1500   #10352
GEORGE C. KENNEY SIGNED TYPESCRIPT, OF CHAPTER 8 OF HIS BOOK, THE MACARTHUR I KNOW, "Gen. George c. Kenny," 12 pages,  7.75 x 11, historic content, in part: "When MacArthur left the Philippines in March 1941, he gave the Filipinos a promise -- 'I shall return'...When he met President Roosevelt in Hawaii in July 1944...MacArthur told the President that these people belonged to us and that they had fought and were still fighting devotedly on our side...the decision...was to recapture the Philippines and to prepare...the invasion of Japan itself...I tell you I'm going back there this fall if I have to paddle a canoe with you [Gen. Kenney] flying cover for me with that B-17 of yours'...Admiral 'Bull' Halsey's carriers had been conducting raids...on Jap airdromes in Luzon and Leyte...Halsey radioed Nimitz and recommended...that the next objective should be Leyte...We entered Leyte Gulf at daybreak on October 20...Red Beach, General MacArthur, General Sutherland, President Osemena, General Krueger--commanding the ground forces, Admiral Kinkaid--the boss of the 7th Fleet, and myself [General George C. Kenney], with a few American and Filipino staff officers, went ashore...'Well, we're back, as we promised in March 1942'...all of us had waded ashore in water above our knees...the next morning the General and I [General George C. Kenney] went ashore at Dulag...during the next few days occurred the Battle of Leyte Gulf...He had returned and this time he was going to stay." This historic typescript has incredible WWII/MacArthur content. In fine condition.

The signed 12-page typescript of Chapter 8 was titled "I Have Returned" and was given to the late aviation-historian/collector Harry Block by General Kenny. This is probably the retained copy of the draft presented to his publisher, Duell, Sloan and Pearce of New York. A wonderful record of MacArthur's activities as the Supreme Commander Allied Expeditionary Force, during 1942-1945, written by General George C. Kenney who shared defeat and victory with him.  
GEORGE C. KENNEY was a fighter pilot during WWI who flew over 70 combat missions and is credited with two aerial victories, winning both the Silver Star and the Distinguished Service Cross. Between the wars he was responsible for the development of a technique for mounting .30 caliber machine guns on the wings of a DH.4. He later taught classes of attack aviation at the Air Corps Tactical School.  He rose to the rank of a United States Army Air Forces General during WWII. He is best known as the commander of the Allied Air Forces and Fifth Air Force in General Douglas MacArthur's Southwest Pacific Area (SWPA), a position he held from August 1942-45. He was known for his command structure, use of new weapons, and attack aviation tactics. His greatest victory was at the Battle of the Bismarck Sea, in March 1943. Following which he was appointed commander of the Far East Air Forces (FEAF), which came to include the Fifth, Thirteenth, and Seventh Air Forces. The ultimate challenge was to integrate air power with MacArthur's strategy. After the war he became the first commander of the newly formed Strategic Air Command (SAC). He was replaced in that position by General Curtis LeMay and  served as commander of the Air University for the last three years of active service.
$1500   #10352  (To see other General Kenney and MacArthur items CLICK HERE)
Thank you for visiting our web site. We hope you enjoyed looking at all the wonderful autographs, historic documents, fine art photographs, and interesting memorabilia. Please let us know how we can be of service. We appreciate you letting your friends know about us.