LIFETIME AUTHENTICITY GUARANTEE WITHOUT TIME LIMIT
KENNEY, GENERAL GEORGE C. HANDWRITTEN LETTER ABOUT MAKING D-DAY LANDINGS WITH GENERAL DOUGLAS MAC ARTHUR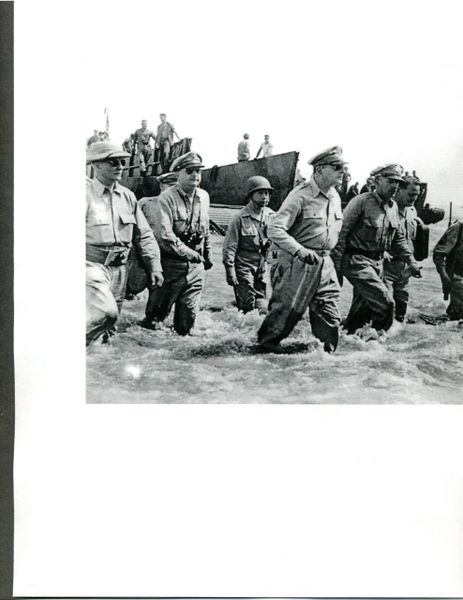 Description
"I MADE THE D-DAY LANDINGS WITH GENERERAL MACARTHUR...WHEN HE CAME BACK TO THE PHILIPPINES"
$1500  #10199
GENERAL GEORGE C. KENNEY (1889-1977) AUTOGRAPHED LETTER SIGNED, "GEORGE C. KENNEY/ GEN. USAF RET., ONE PAGE, 8 X 10, NO DATE, ON AVIATION HISTORICAL SOCIETY OF INDIANAPOLIS LETTERHEAD, WITH EXTRAORDINARY WWII CONTENT TO AVIATION HISTORIAN/COLLECTOR HARRY BLOCK. In Part: "...fill in all your questions satisfactorily but here is what I can tell you...no signature of "Pappy Gunn"[Major Paul I. Gunn] or a photo...his wife Mrs Paul I. Gunn...no signature or photo of Bong [WWII fighter Ace, Major Richard Bong]. His father is...nothing on Lanphier [aviation pioneer, Colonel Thomas George Lanphier, Sr.]. You might reach him...nothing on Lindbergh. I don't have his Swiss address...I made the D day landings with General MacArthur at Tacloban on Leyte Gulf when he came back to the Philippines in October 1944. I also went ashore with him at Labuan in Brunei Bay, Borneo on 10 June 1945. Sincerely George C. Kenney, Gen. USAF ret." This letter is accompanied by a copy of a seven page Air Force Magazine article, "The Genius of George Kenney."
GEORGE C. KENNEY was a fighter pilot during WWI who flew over 70 combat missions and is credited with two aerial victories, winning both the Silver Star and the Distinguished Service Cross. Between the wars he was responsible for the development of a technique for mounting .30 caliber machine guns on the wings of a DH.4. He later taught classes of attack aviation at the Air Corps Tactical School.  He rose to the rank of a United States Army Air Forces General during WWII. He is best known as the commander of the Allied Air Forces and Fifth Air Force in General Douglas MacArthur's Southwest Pacific Area (SWPA), a position he held from August 1942-45. He was known for his command structure, use of new weapons, and attack aviation tactics. His greatest victory was at the Battle of the Bismarck Sea, in March 1943. Following which he was appointed commander of the Far East Air Forces (FEAF), which came to include the Fifth, Thirteenth, and Seventh Air Forces. The ultimate challenge was to integrate air power with MacArthur's strategy. After the war he became the first commander of the newly formed Strategic Air Command (SAC). He was replaced in that position by General Curtis LeMay and  served as commander of the Air University for the last three years of active service.
Kenney wrote three books about the SWPA air campaigns he led during WWII. His major work was General Kenney Reports (1949), a personal history of the air war he led from 1942-45. He also wrote The Saga of Pappy Gunn (1959) and Dick Bong: Ace of Aces (1960), which described the careers of two of the most prominent airmen under his command: Major Paul I. "Pappy" Gunn, an expert in dare-devil low-level flying, and recognized for numerous feats of heroism and mechanical ingenuity especially in modifying bombers and turning them into attack aircraft. And Major Richard Bong, Medal of Honor recipient and one of the most-decorated fighter pilots and the United States' highest-scoring air ace in the war, being credited with shooting down 40 Japanese aircraft. General Kenney also wrote The MacArthur I Know (1951).
$1200   #10199  (WE ALSO HAVE OTHER AMAZING GENERALS KENNEY AND MACARTHUR ITEMS IN STOCK)
Thank you for visiting our web site. We hope you enjoyed looking at all the wonderful autographs, historic documents, fine art photographs, and interesting memorabilia. Please let us know how we can be of service. We appreciate you letting your friends know about us.