LIFETIME AUTHENTICITY GUARANTEE WITHOUT TIME LIMIT
FRANKLIN ROOSEVELT WHITE HOUSE LETTER SIGNED ABOARD PRESIDENTIAL SPECIAL TRAIN VIEWING THE DAMAGES OF THE 1936 DUST BOWL IN NORTH DAKOTA & MONTANA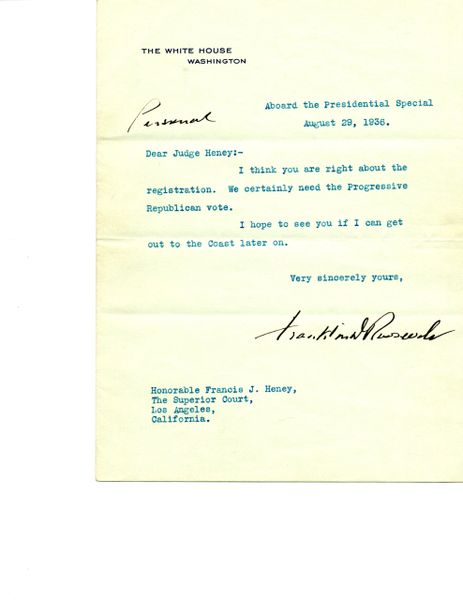 Description
PRESIDENT FRANKLIN ROOSEVELT WHITE HOUSE LETTER SIGNED, "Franklin Roosevelt," one page, 7 X 9, AUGUST 29, 1936, "ABOARD THE PRESIDENTIAL SPECIAL." TO JUDGE FRANCIS J. HENRY, IN FULL: "I think you are right about the registration. We certainly need the Progressive Republican vote. I hope to see you if I can get out to the Coast later on." President Roosevelt adds "Personal" to the upper left. In fine condition with two horizontal mailing folds.
President Roosevelt was on tour of the dust bowl drought region, visiting in North Dakota and Montana, to gain first-hand knowledge of the Midwest farm situation: 40,000,000 acres of baked and barren farmland: the worst of it's kind in the nations history. Tens of thousands of people were displaced, forced to abandon their homes ,and in many cases try to find a new life in California.
He was traveling aboard the Roosevelt Special train and would disembark in Bismark and travel by automobile to view the damaged countryside, talk with affected farmers and visit PWA projects and then would hold meetings with several governors and have a conference with a group of senators back on the train to gather information helpful in legislation that would be submitted to congress in hopes of establishing some permanent drought prevention measures.
Even as this Democratic president viewed and discussed this ecological and human crisis he took time, in this letter, to confirm the need to register the Progressive Republican vote for the next election. Judge Francis J. Heney (1859-1937) was a Progressive era politician and California Superior court judge. This is a good association letter that demonstrates the responsibilities and concerns of a sitting United States president.
$1725 #10163LRAZ