LIFETIME AUTHENTICITY GUARANTEE WITHOUT TIME LIMIT
FERDINAND AND ISABELLA SIGNED LETTER WITH CONTENT ASSOCIATED WITH THE INQUISITION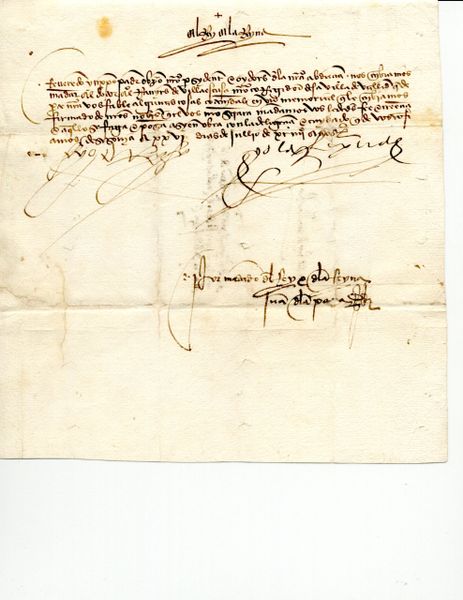 Description
A letter from Ferdinand and Isabella, written to the Bishop who presided over the Royal Court at Valladolid and thus in charge of the Supreme Council of the Inquisition, regarding a memorandum being brought to him by a judge who had been involved in property confiscation by the Inquisition. All this happening at the same time as Christopher Columbus was on his second voyage of discovery for the Spanish monarchs.
Extreme rarity. Historic association. Royal missive.
Ferdinand and Isabella, letter signed,
"Yo el Rey" (I the King) and "Yo la Reyna" (I the Queen), one page, 8.25 x 8.5,
July 26, 1494
, to Juan Arias de Villar, the bishop of Oviedo. In full (translated): "Reverend father in Christ, bishop, our president, and judges of our High Court. We are sending to order that Doctor Alonso Ramirez de Villaescusa, our municipal royal representative in the town of Valladolid, speak to you on our behalf about some things contained in a memorandum that we are sending to him, signed with our names, and that he will show you. We order you to give him trust and credence and that this be done and put into practice in this way with the diligence and care for which we have confidence in you." In very good to fine condition, with several expertly repaired tears and small areas of paper loss.
The recipient of this letter, Juan Aria de Villar, was named bishop of Oviedo by King Ferdinand in 1487
and confirmed by Pope Innocent VIII. Between 1485-1490,
Alonso ramirez de Villaescusa was sent to Toledo as a judge concerning property confiscated by the Inquisition
. In 1491, the Royal Court at Valladolid, presided over by the bishop of Leon, wrongfully allowed an appeal of an order by the Supreme Council of the Inquisition to Rome; Queen Isabella promptly
dismissed the bishop
and complicit judges and
replaced them with Juan Aria de Villar, the Bishop of Oviedo.
The Spanish inquisition
focused particularly on the issue of Jewish anusim (Jews who were forced to abandon Judaism against their will) and Muslim converts to Catholicism, partly because they were often considered suspect due to the assumption that they had secretly reverted to their previous religions.
The Catholic Church bodies charged with suppressing heresy.
In 1492
, by the
Alhambra Decree
, all Jews who had not converted were expelled from Spain (
without their wealth
); those who converted became subject to the Inquisition (Jews were not heretics, but "Catholics" who practiced the Jewish faith were regarded as heretics). Many fanatical clerics feared the Conversos, the Jews who converted and stayed in Spain, as a menace to the country's welfare by their increasing religious influence and economic domination of Spain.
In 1478 Pope Sixtus IV issued a bull establishing the

Holy Office for the Propagation of the Faith

, authorizing Ferdinand and Isabella to choose sundry archbishops, bishops, and other persons, both clerical and laymen, for the

purpose of conducting investigations in matters of faith

. Ferdinand readily accepted this but Isabella resisted until 1480 when she was finally persuaded by a group of fanatical ecclesiastical dignitaries to sign the document that

established the inquisition

in her dominions. On Sept 27, 1480, two Dominicans were appointed

the first inquisitors

. They were feared by Many wealthy noblemen who had intermarried with the Marranos/Conversos (Jews who had converted to Catholicism) and they formed a group to oppose the inquisitors. Their conspiracy was betrayed and suppressed. Other Conversos, on hearing of the inquisitors, left the area, with their possession, in search of protection. The inquisitors gave the order to

arrest all the Conversos

and confiscate their property.

A tribunal

, the object of fear and terror, for nearly 300 years, began its work Feb. 6, 1481, and
17 Conversos were burned at the stake on March 26, 1481.

T
he immense wealth of the condemned was seized by the royal treasury.

Ferdinand and Isabella ignored the Pope's recommendation to treat the Conversos more humanely: while recognizing Isabella's piety, the Pope hinted that the Queen was urged to proceed so rigorously against the Conversos, "

by ambition and greed for earthly possessions, rather than by zeal for the faith and true fear of God.

"

In a bull of May 25, 1483, the Pope expressly says, he was the only power to whom final appeal could be made in matters of faith.

As later concession to Ferdinand and Isabella he appointed a Spanish Cleric to act as his representative in Spain.

The bishop to whom this letter is sent

had replaced the previous bishop who had been dismissed because he and the judges had bypassed the Spanish papal appointee and instead made a direct appeal to the Pope.
In May, 1485,
the tribunal of Ciudad Real was transferred to Toledo
. In Toledo there was no lack of victims. Just four days after the date of this letter 16 persons were burned at the stake and 30 condemned to life-imprisonment. Before the end of the fifteenth century there were nearly a dozen tribunals in Spain.
This letter is an extremely rare find and worthy of consideration by any serious collector.
Thank you for visiting our web site. We hope you enjoyed looking at all the wonderful autographs, historic documents, fine art photographs, and interesting memorabilia. Please let us know how we can be of service. We appreciate you letting your friends know about us.